writing skills via amusing critique of tabloid journalism
Waterhouse on Newspaper Style has a complex history. It was originally written in 1979 as a series of style notes for journalists on the Daily Mirror, and it has gone in and out of print ever since – whilst simultaneously establishing a reputation as a classic of clear guidance and an analysis of tabloid journalism. Keith Waterhouse is one of the old Fleet Street school who actually care about clarity, accuracy, and good prose style.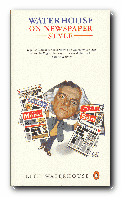 Writing from the point of view of a working journalist, he inspects the linguistic practice of the press and reveals its weaknesses in a series of witty mini-essays. He adopts the A-to-Z format – from Adjectives through Metaphor to the Weather – looking at usage and abusage in a way which is both instructive and very amusing.
It's easy to score points off the tabloid fixation with headlines which combine rhyme, alliteration, cliché, and weak puns [RAMBO BOY ON RAMPAGE]. However, in the course of dissecting these literary weaknesses, Waterhouse forces us to think about the everyday misuse of language in a way which is instructive beyond the pages our daily newspapers.
For instance, in terms of the discourse of the medium, he points out that popular journalism employs an artificial language which nobody actually speaks – as in "the dollar takes a pounding".
He describes this approach as being like "ransom notes which are made up of lettering cut out of various publications". And all through this amusing tour of catchwords, journalese, officialese, and tautology he has perceptive advice to offer on the most basic elements of good writing – such as accuracy and restraint in the use of the comma, and alertness to the cliché, the vogue word, and the tired metaphor.
Another of his observations which struck me as usefully perceptive was the reason he gives for distrusting those who use too much jargon:
to use outsiders' jargon is to take their own evaluation of themselves on trust – or anyway to give the impression of doing so. This is one good reason why journalists should never resort to the jargon of the field they cover.
Waterhouse illuminates the conventions of good and bad writing without once resorting to the polysyllabic terms of conventional grammar. There are no 'objects of a preposition' or 'possessive pronouns' here. Everything is done via plain prose and good examples. He comes out on the side of the specific, the concrete, and the direct expression. We should write 'red', not 'brightly coloured', 'rain' not 'bad weather', and 'began' not 'commenced'.
It's a joy to read, it's instructive, and you'll search your own prose more rigorously to avoid the solecisms he discusses. But the book's idiosyncratic career still seems to be in progress. My edition is a recent Penguin paperback, yet when I checked the Net, it didn't appear to be in print. Keep looking. It's well worth the effort.
© Roy Johnson 2000

  Buy the book at Amazon UK

  Buy the book at Amazon US
---
Keith Waterhouse, Waterhouse on Newspaper Style London: Penguin, 1993, pp.250, ISBN: 0140118195
---
More on writing skills
More on creative writing
More on grammar
---