the state of jazz at the dawn of its second century
This book covers the writing of prominent jazz critic Gary Giddins from 1990 to 2003. There are reviews of concerts and broadcasts, record reviews, and transcripts of interviews, but mainly reprints of the column entitled Weather Bird which he wrote for the Village Voice between 1974 and 2003. His range is wide. It goes from Traditional figures such as Louis Armstrong to contemporary and avant-gard figures such as Cecil Taylor and young modernists such as Javron Jackson. In between there's a rich appreciation of figures such as Benny Carter, Gerry Mulligan, Cassandra Wilson, Sonny Rollins, and Jimmy Heath. He even writes with generous recognition of fellow jazz critics Martin Williams and Leonard Feather.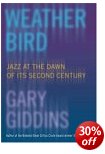 Between the profiles and concert reviews there are features such as The Best Jazz Records of the Year. After the lapse of up to a decade, it's interesting to see how many names you can recognise, and sad to note how few of these records are still available. His reviews of jazz concerts give a vivid impression of what it's like to be immersed in the world of jazz, but because there are often so many people to mention, these reviews sometimes become bewildering lists of names and tune titles.
As a reviewer myself I admired the dextrous way he manages to avoid "… and the next tune … then they play … next comes …". He certainly writes in a crisp style which is never dull:
The MJQ is almost too good. Fixed snapping rythms embellished with bells and chimes support contrapuntal melodies and compelling improvisation. Clipped, jabbing piano and vivid blues complement saturated sonorities augmented by bowed bass and accelerated vibrophone vibrato. A seductive book, assiduously reworked and enhanced for decades, transfigures popular songs into originals and vice versa.
He is amazingly well informed, and shows it in such fascinating and surprising features as a political and social history of jazz in Denmark. It's a very instructive compilation for non-US readers. There are lots of musicians discussed who I had never heard of before, and his appreciation of the much under-rated bop vocalist Bob Dorough had me scanning the listings at Amazon in an instant.
He even finds positive things to say about people who have often struck dubious relations with the traditions of jazz such as Sun Ra, Cecil Taylor, and Ornette Coleman.
Longer pieces such as a book chapter essay summarising the avant gard in jazz, and his sleeve notes for the complete Columbia recordings of Bille Holiday, and his 'roadmap' to jazz 1945—2001 which analyses one significant recording from each year of the post-war period.
He puts the relative newcomers such as Cyrus Chestnut and Jason Moran into a rich historical context, and he's not afraid to reveal the weaknesses in revered (some would say over-rated) figures such as Winton Marsalis.
One thing's for sure. If you have listened to jazz of any style or flavour from the last seventy years or so, you'll find something to interest you here. This is a tremendously comprehensive guide and a rich source of reference, as well as a stimulating critique of America's one indigenous art form.
© Roy Johnson 2005

Buy the book at Amazon UK

Buy the book at Amazon US
---
Gary Giddins, Weather Bird, Oxford: Oxford University Press, 2005, pp.632, ISBN: 0195156072
---
More on music
More on media
More on lifestyle
---