comprehensive manual, plus tips and explanations
Web site design manuals are often all screen shots and little substance. These can be quite useful for beginners, who might be intimidated by too many technicalities. At the other extreme there are the dense catalogues of coding definitions issued by the standards authorities which only an expert would ever need to consult. In between are all the rest, which need to present something original or at least interesting to distinguish themselves from the mass. Web Design in a Nutshell manages to combine the best of the intermediate and advanced worlds.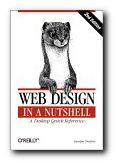 They feature a compressed mixture of instruction and reference which cuts out all dross, and offer their usual excellent value. Jennifer Niederst explains that she felt the urge to produce yet another book on Web design for the simplest of motives – her own use.
I was becoming frustrated with the time I was spending on the Web tracking down the answers to little questions: 'Which tag does that attribute go in?', 'Does this browser support that technology?', 'What's the best way to put audio on the Web?' And I'm not ashamed to admit that I've been reduced to tears after hours of battling a table that mysteriously refused to behave, despite my meticulous and earnest efforts. You just can't keep all this stuff in your head any more.
Niederst is one of their former staff writers and designers [see her recent Learning Web Design]. She explains HTML in a clear and sensible manner, starting with what she calls 'the web environment' – how it all works, why you should keep different browsers in mind, and what 'screen resolution' really means.
Then there is a very thorough coverage of all the basic elements: HTML coding, text formatting, links and images, tables, frames, and forms; then graphics in .gif, .jpg and .png formats; colours, audio, video, and javascript. The latter part of the book is devoted to what she calls 'the emergent technologies – cascading style sheets, dynamic HTML, XML, and font embedding.
All the way through, she throws out tips, hints, and warnings which give you confidence that she knows whereof she speaks, and as you would expect in a work of this kind, there are a full range of reference tables – the complete HTML 4.0 specification, 'deprecated' and proprietary tags, a glossary of terms, and even an extended table of the latest support for style sheets in a wide range of browsers.
The latest edition has been substantially revamped and extended. Additions include more on printing pages from the Web, using Flash and Shockwave, using SMIL for multimedia presentations, and designing for the wireless web using WML.
At the risk of sounding like an O'Reilly groupie, I have to say that their productions are almost always a bibliographic joy to behold. They are well written, elegantly designed, meticulously edited, and flawlessly printed. This one is no exception.
© Roy Johnson 2001
---
Jennifer Niederst, Web Design in a Nutshell: A Desktop Quick Reference, 2nd edition, Sebastopol: O'Reilly & Associates, 2001, pp.640, ISBN: 0596001967
---
More on web design
More on digital media
More on technology
---