from zero to web design hero in easy lessons
ILEX are in the business of producing very high quality books which offer beautiful page layout and graphic design, elegant fonts, and a crisp approach to digital production. Their latest volume on web design is an excellent example of putting computer technology onto the printed page with no loss of visual aesthetics. This guide assumes that you are going to use a web editor to do all the coding for producing a web site. It concentrates therefore on the general principles.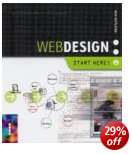 There's very little detail – and that's the weakness of this approach. The strength is that it provides an excellent overview of what's required in web design. Obviously there are lots of different skills required, and Nick Nettleton sketches out the basics for each phase of the design process. He also tells you what freeware is available for each stage in the process – even for graphics editing and FTP programs for uploading. He covers fonts, colour, graphics, and links – in which I liked his idea of creating a web page of links to sites whose appearance you prefer, which is something I have started doing on my Mantex Blog.
There's also plenty on the use of tables to control the layout of the text on the page, and he warns (quite rightly) about the problems of browser versions – now thankfully receding.
Next comes creating graphics and fonts, including the sort of special effects that are available in most programs – gradients, fills, drop shadows, distortions, and textures.
He discusses the creation of buttons and designing the overall look and feel of a web site, and there's a section on optimising and compressing graphics to minimise download times. This leads naturally enough into the graphic images which are a central feature of many web sites these days, increasingly exploited in an era of increasing band width.
He includes guidance on how to use digital cameras, editing photos with software such as Photoshop, and treating the results so that they look good on the screen.
This is followed by the conceptual art of organising the structure and navigation of a good site – a the part which many designers neglect. He shows the basics, then demonstrates how to create navigation bars, image maps, and rollovers.
He finishes with more advanced techniques such as nested tables, use of frames, and animated rollovers.
This is a guide which gives quick glimpses of what is possible in web design. It's classy, well presented, and good value. You'll need to look at any given topic in more detail, but this is a good place to start.
© Roy Johnson 2003
---
Nick Nettleton, Web Design: Start Here, Lewes, Sussex: ILEX, 2003, pp.192, ISBN 1904705030
---
More on web design
More on digital media
More on technology
---