design with emphasis on graphics and advanced effects
This is the second edition of a very successful Web design manual. It spells out the basics of good design, but then concentrates on the graphic design elements of building good pages and effective sites. Peter Kentie begins by outlining the principles of HTML and Web design. Then he explains the basics of coding – starting from text and graphics, then forms and tables, frames and style sheets. Those who wish to take the route of using a text editor will be glad to know that he discusses Front Page, HotMetal, BBEdit, PageMaker, and even Word. The later two thirds of the book are taken up with what is obviously his forte – 'creative Web design'.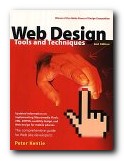 This involves using intermediate graphics techniques and 'advanced' multimedia effects such as Flash, sound, video, 3-D, and Java Programming. All of which makes it very much a book which will appeal to graphic designers. He deals with colour adjustment, Gif and Jpg image manipulation, background effects, image maps, shadows, and 3-D effects. There's lots of use of Adobe Illustrator and Photoshop, as well as the Macromedia Web tool programs.
The advanced section deals with making animated Gifs. He's very enthusiastic about Flash, which allows you to create animations which are amazingly small in terms of file size. And if you feel very adventurous, you can even try his suggestions for Shockwave movies, Virtual Reality, or streaming video. He ends with the advanced possibilities now possible using XML, WAP, Java, and Active Server Pages.
These effects are explained clearly but quickly – so this book is most suitable for intermediate users. I think it will be most useful for those people with an existing web site who want to improve and develop it using the latest technologies. Those who are in the beginner stages of web design should try checking out a free website at webstarts.com. The book is very elegantly produced, and packed with both coding and screen shots, showing you what can be done.
© Roy Johnson 2002

  Buy the book at Amazon UK

  Buy the book at Amazon US
---
Peter Kentie, Web Design: Tools and Techniques, Berkeley (CA) Pearson/Peachpit Press, (second edition) 2002, pp.485, ISBN: 0201717123
---
More on design
More on media
More on web design
---