managing large scale web site makeovers
This is a book about managing Web re-design projects – but in fact the general principles could be applied to any large project. And the details could be applied to any first time Web design. The authors make it clear that they are not offering a Web design manual. It's about project management. But the issues of what makes an efficient site can't help keep cropping up again and again in the advice they offer. The main import of their strategy is to suggest timelines, planning schedules, and checklists for project teams involved in big site re-designs.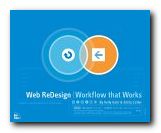 It's all fairly logical and obvious when you see it written down, but of course many businesses don't work in this manner. There's a relentlessly detailed approach to identifying and documenting every smallest feature of the client's business and requirements. The problem with this approach is that it would cost an enormous amount in person-hours just to gather the information, irrespective of how useful it proved to be. I wonder how many consultancies could afford to factor in such workloads without fear of pricing themselves out of the contract.
The book is packed with worksheets and checklists, most of which are downloadable from the book's own Web site. They even show examples of how to set charges and create a commercial agreement. There are useful definitions of the roles undertaken by various members of a project team – from the manager to designers and 'backend engineers'.
There's a good chapter on designing the structure of a site, naming its parts, and labelling its contents. They also deal with colour as a navigational and design aid, then finish with advice on preparing for and delivering a site launch, before maintaining it.
Almost every page has a screen shot or a diagram, and there are plenty of pullout boxes with tips and advice on everything from style sheets and file sizes, to testing, upgrading, and evaluation. It's a bit like looking at a Web site in print form.
Two of the nicest features of the book are that their chapters and interspersed with examples of site makeovers, and there are mini essays from design and usability gurus every few pages. These make excellent reading.
This is all very thorough, and it will be of most use to designers and consultants working on big sites – but many of the detailed points of advice will be just as useful to serious small and home-based site designers.
© Roy Johnson 2003
---
Kelly Goto and Emily Cotler, Web ReDesign: Workflow that Works, Indianapolis (IN): New Riders, 2002, pp.253, ISBN 0735710627
---
More on web design
More on digital media
More on technology
---