how to make your Web site more usable – on a budget
Marcia Yudkin is offering here the sort of tips on Web site 'usability' made famous by Jakob Nielsen – but she does it in a gentler and less challenging manner. Few of the suggestions she makes in Web Site Marketing Makeover require any expenditure – just energy and intelligence. This is the latest title from TopFloor Publishing – who specialise in books which offer geek-free, common sense advice to people working on a budget. It will be ideal for people who want to improve an existing web site – and for those designing one who want to make it effective.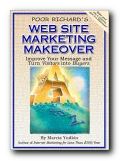 She goes into the fine details of Web enterprise – starting from such fundamental issues as the name of the site, the appearance of the home page, and the number and size of the items on it. All her suggestions are designed to promote maximum usability and user-oriented design. She is a supporter of the approach taken by Nielsen, Edward Tufte, and Steve Krug. She describes how to create useful navigational links: how to name them, group them logically, and display them in a way which will attract users without making the page ugly.
There's an interesting chapter on how to create the writing which is going to do the bulk of the work of conveying what you have on offer to your visitors. Yudkin is drawing on her experience as an advisor to a wide variety of businesses, and the examples she cites range from non-profit-making organisations, individual entrepreneurs and consultants, to big organisations such as finance companies and e-commerce giants.
Almost every page carries screenshots showing negative as well as positive examples to illustrate the advice she offers – and she is brave enough to talk you through her own makeovers of commercial sites.
For those interested in hard e-commerce, there is plenty on forms, subscription systems, payments, and how to build the confidence and trust of the customer. But typical readers are likely to be those working to a budget – and they will appreciate her pointers towards free resources in every section. These really are impressive in their range – free content, software, services, graphics, fonts, advice – even free e-commerce shopping trolleys.
This is another excellent addition to TopFloor's Poor Richard series – worth it alone for the superb annotated listing of recommended books and Web resources.
© Roy Johnson 2002

  Buy the book at Amazon UK

  Buy the book at Amazon US
---
Marcia Yudkin, Poor Richard's Web Site Marketing Makeover, Lakewood CO: TopFloor Publishing, 2001, pp.249, ISBN: 1930082169
---
More on eCommerce
More on media
More on publishing
More on technology
---