tragic and comic tales of the rural past
Thomas Hardy is one of the few major novelists (D.H.Lawrence was another) who is equally celebrated as a poet and a writer of short stories. Wessex Tales is a collection of his best-known tales which he shaped and re-shaped during his lifetime. It gathers together incidents, anecdotes, and folk memories which record the passing of an old rural era which Hardy captures with his customary sense of drama, his powerful language, and his wonderful depiction of the English countryside. All of these qualities make him an enduring favourite with the common reader.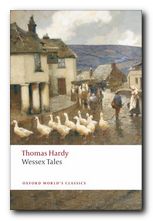 The stories seem to exist in three simultaneous time zones. Their events capture the social history, the practices, beliefs, and language of the early nineteenth century which Hardy was keen to document before they disappeared from living memory. They were written in the late nineteenth century and contain many of the literary devices of that period for which Hardy is famous – the use of fateful and tragic coincidences, plots which strain credulity, and a post-Darwinian sense of tragedy which pervades almost all of his work. Yet there are also elements of modern sensibility that reflect the fact that Hardy did in fact live for almost three decades as part of the twentieth century, and was personally acquainted with modernists such as Henry James and Virginia Woolf.
Those people familiar with Hardy's novels will recognise his use of traditional and melodramatic plot devices in these stories. The young country girl who arranges to elope with a dashing soldier, but at the very meeting point overhears a man from her past and changes her mind – with tragic consequences for her and for the soldier. A christening party interrupted by the arrival of two strangers, who turn out to be an escaped convict and the hangman who has been summoned to execute him.
One of the most interesting stories (Fellow Townsmen) is set, unusually for Hardy, not in the countryside but in a manufacturing Dorset town (Bridport) amongst businessmen, a solicitor, and the local doctor. It concerns a number of Hardy's favourite themes – the building of a house (a symbol of prosperity and status) an unhappy marriage, a former sweetheart who marries the hero's best friend, and a series of missed opportunities which lead to a bleak outcome for all concerned.
These are correctly entitled 'tales' rather than 'stories' because they lack some of the compression and singularity of purpose we expect in a story – long or short. They have instead multiple characters, locations, and incidents. Some even have chapters with descriptive titles, and are almost like scenarios which might easily have been fleshed out into full length novels had Hardy felt the inclination to do so.
At a biographical level of comment and interpretation, it's notable that many of the stories turn around matters of improvident, unhappy, and second marriages. We know that Hardy was less than content in his relationship with Emma, his first wife, but these stories were written twenty years or more before he met Florence Dugdale, with whom he formed his second and no more successful marriage. It's almost as if he is exploring unconsciously these issues in advance of living them out, just as he did in his later novels. Tess of the d'Urbervilles has a heroine who is deserted on her wedding night. The Mayor of Casterbridge has a hero who sells his wife. And Jude the Obscure is the story of a man who marries twice – both times without success.
But whatever the plot, all these stories are imbued with that profound love and understanding of the countryside for which Hardy is rightly famous. He has a perception which combines historical consciousness, scientific accuracy, and a lyrical evocation of his native Dorsetshire which is truly poetic:
They were travelling in a direction that was enlivened by no modern current of traffic, the place of Darnton's pilgrimage being an old-fashioned village – one of the Hintocks (several villages of that name, with distinctive prefix or affix, lying thereabout) – where people make the best cider and cider-wine in all Wessex, and where the dunghills smell of pommace instead of stable refuse as elsewhere. The lane was sometimes so narrow that the brambles of the hedge, which hung forward like anglers' rods over a stream, scratched their hats and hooked their whiskers as they passed. Yet this neglected lane had been a highway to Queen Elizabeth's subjects and the cavalcades of the past. Its day was over now, and its history as a national artery done forever
© Roy Johnson 2011
---
Thomas Hardy, Wessex Tales, Oxford: Oxford University Press, 2009, pp.248, ISBN: 0199538522
---
More on Thomas Hardy
More on the novella
More on literary studies
More on short stories
---