Wikipedia is now the biggest encyclopedia in the world. It's currently twenty-five times larger than Encyclopedia Britannica, and expanding with every day that passes. That's because anybody can add entries, edit the content, correct mistakes, or contribute new materials. But if you go to Wikipedia and try to start adding your own entries, supplementing other people's contributions, or correcting mistakes – it's not quite as simple as it might seem.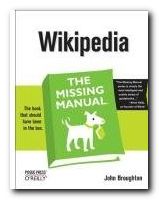 There's online help, but it's rather deeply buried. That's why books such as this one from the 'missing manuals' series have come into being. They provide the user guides which nobody in open source projects has got round to writing yet. This one doesn't just tell you about how to create new Wikipedia entries or edit ones that already exist, it explains what types of new material will be acceptable, and which will not.
For instance, I found an entry recently which gave information about the main road which runs through the suburb of south Manchester UK where I live. It listed public buildings, a little local history, and topographical details.
But if I had a dog called Bosun and keyed in an entry on his appearance and habits, that would be removed. The reason? It doesn't pass the 'notability' test. In other words, who cares about your pet dog, or your lovely daughter, or your taste in wallpaper? Yet if you happened to have some botanical information about sycamore trees, or the statistics related to voting patterns, that might be welcomed as new material.
John Broughton covers all the essentials a beginner will need to know – how to add or edit entries; how to create hyperlinks and footnotes; and how to add graphics. So if you would like to join the tens of thousands of (unpaid) volunteers adding to the six million articles in 250 languages – this is a great place to learn the rules of engagement.
The whole of Wikipedia is supervised by volunteer editors; everything is checked; and a record is kept of any changes made, plus when they were made, and who made them. If you were to insert a paragraph saying that Elvis Presley had recently been seen in Tesco, it would immediately be deleted. And if you mischievously added links to your own web site hoping to drive up traffic, these pages would be 'reverted', which is Wikispeak to say that they would be wound back to what they were before.
These are some of the reasons why readers can trust Wikipedia more than is sometimes thought. It is a self-regulating mechanism, and vigorous systems exist to combat mistakes, vandalism, and spam. Even the editors have other editors, checking their work.
Even though anybody can add entries to Wikipedia, it's quite interesting to note what is not allowed. The list includes the presentation of original ideas, routine news coverage, self-promotion, instruction manuals, plot summaries and song lyrics, announcements, sports, and gossip. That's why my dog Bosun doesn't get a mention.
John Broughton leaves the technicalities of how to create pages and arrange tables of contents until the end. These sections also include some interesting details on Wikipedia's house style – no definite or indefinite articles in titles for instance, and bulleted lists are discouraged.
The latter part of the book deals with issues which will interest information architects – the classification of data, how articles are categorized, and how Wikipedia deals with 'disambiguation' – which occurs when a single term can have multiple meanings. For instance 'mercury' could be the liquid metal or the mythological messenger. Wikipedia deals with these cases using what's called 'the principle of least astonishment' – in other words, what would a reader most likely expect to see listed first.
He ends with some interesting tips on editing and what are essentially collaborative writing skills, plus guidance on checking sources and links, and striving for accuracy in all things. This is rather like an excellent potted course on online journalism. So if you fancy making a contribution, just sign on and get started. Wikipedia even lists articles which are waiting to be written. And to complement its spirit of open sources, the whole book is also available at Wikipedia.org where you are invited to edit and enhance its value.
© Roy Johnson 2008

Buy the book at Amazon UK

Buy the book at Amazon US
---
John Broughton, Wikipedia: The Missing Manual, O'Reilly, Sebastopol: CA, 2008, pp.477, ISBN: 0596515162
---
More on journalism
More on creative writing
More on writing skills
More on publishing
---