Hogarth Press first edition book jacket designs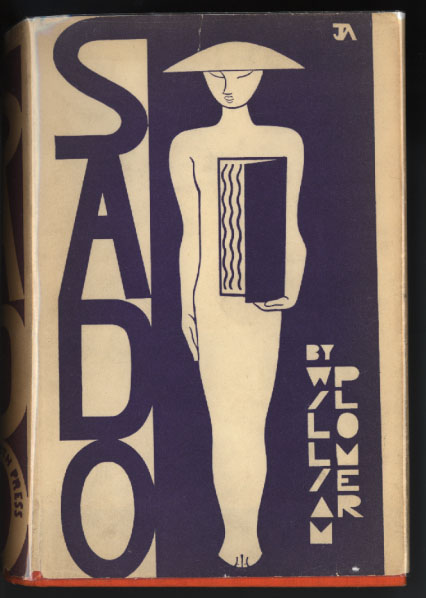 William Plomer, Sado (1931) Cover design by John Armstrong.
"The first version of Sado ran to some 170,000 words, as Plomer wrote to Woolf in February, but he soon boiled it down to half that length. He sent the revised typescript to the Woolfs two months later just as they returned to London after driving through western France for two weeks on their annual outing. Refreshed from their trip, the Woolfs read Plomer's novel immediately, Leonard writing to him five days later on Friday that both he and Virginia liked the book very much. They were struck by Plomer's writing and his psychological insights, finding the theme [of homo-eroticism] "extraordinarily interesting" and his prose less uneven than his previous writing, with "fewer, if any, air pockets". With the publication of Sado, Plomer reached maturity as a writer. Leonard had over 1,500 copies of the novel printed and issued with a handsomely stylized dust jacket in white and blue designed by John Armstrong. In spite of its promising send-off, Sado disappointed by selling only 837 copies in the first six months and by going in the red over £64 in the first year."
J.H. Willis Jr, Leonard and Virginia Woolf as Publishers: The Hogarth Press 1917-1941
---
Hogarth Press studies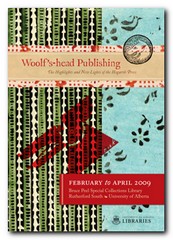 Woolf's-head Publishing is a wonderful collection of cover designs, book jackets, and illustrations – but also a beautiful example of book production in its own right. It was produced as an exhibition catalogue and has quite rightly gone on to enjoy an independent life of its own. This book is a genuine collector's item, and only months after its first publication it started to win awards for its design and production values. Anyone with the slightest interest in book production, graphic design, typography, or Bloomsbury will want to own a copy the minute they clap eyes on it.

Buy the book at Amazon UK


Buy the book at Amazon US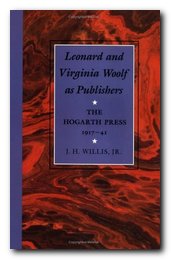 Leonard and Virginia Woolf as Publishers: Hogarth Press, 1917-41 John Willis brings the remarkable story of Leonard and Virginia Woolf's success as publishers to life. He generates interesting thumbnail sketches of all the Hogarth Press authors, which brings both them and the books they wrote into sharp focus. He also follows the development of many of its best-selling titles, and there's a full account of the social and cultural development of the press. This is a scholarly work with extensive footnotes, bibliographies, and suggestions for further reading – but most of all it is a very readable study in cultural history.

Buy the book at Amazon UK


Buy the book at Amazon US
© Roy Johnson 2005
---