Industrial-strength tricks for getting more out of Word
Microsoft Word is the world's most popular word-processor – yet many people never use some of the powerful tools it has to offer. They might jiggle around with a few font choices and toolbar options, but there is a lot more under the bonnet which isn't immediately apparent. Andrew Savikas's new book Word Hacks offers tips and guidance for harnessing these hidden strengths. The tips are graded at beginner, moderate, and expert level – so you can work in a way which is comfortable for you. He starts off by telling you how to deal with all the menu options to make Word work as you want it to. Then it's on to macros – a list of commands which you can store, to save you the problem of boringly repetitive keystrokes and menu choices. He also shows you how to hack your shortcut menus, and how to customise Word.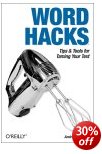 This ranges from trivial things such as changing the icons and buttons on your toolbars, to getting rid of the annoying and very unpopular Help assistant (Mr Paperclip). He then moves on to more useful tricks such as increasing the number of most recently used files (MRU) listed at the bottom of the File menu, and shows you how to mess with the number of font options available.
He shows you how to display samples of your fonts instead of just a list of their names; how to create bar graphs using tables; how to repeat a chapter heading across multiple pages; and how to increase the number of styles you can apply to footnotes ands captions.
Most of these tips only require you to type out a short macro (which he supplies) or to hack gently at the regular menu options. Any of the longer procedures are then saved as macros and assigned a keyboard shortcut of your choice.
You've probably noticed that Web addresses typed in Word turn automatically into hyperlinks – underlined and coloured blue. For those people (like me) who find this annoying, he shows you how to change the appearance and even get rid of them.
For serious and industrial strength writing he shows you how to do powerful search and replace edits, how to add custom (and temporary) dictionaries for special projects, how to take control of the way Word deals with bulleted lists, and how to make the most out of Word's outlining feature.
There's a whole chapter devoted to troubleshooting common Word problems – such as missing toolbars, repeated freezes and crashes, and the proliferation of unwanted temporary files. Then he finishes with some fairly advanced suggestions on forms and fields, plus how to get Word to perform calculations using tables, and using Word to work in XML and XSLT.
My guess is that this is one for people who like Word, who are committed to staying with it, and who want to get more from it in terms of power and productivity. It will also be useful to writers and editors working on book-length projects and reports. As usual with O'Reilly publications, the layout and presentation are impeccable.
© Roy Johnson 2004
---
Andrew Savikas, Word Hacks: Tips and Tools for Taming your Text, Sebastapol: CA, 2004, pp.372, ISBN: 0596004931
---
More on technology
More on digital media
More on online learning
More on computers
---