a blog, web site, and content management system
WordPress 3.0 (WP) started out as a blogging software program in 2003, but it has grown rapidly into a fully featured content management system (CMS). That's partly because it was well designed in the first place, but mainly because it's open source software (OSS), which means that designers and programmers all over the world have contributed to its development and improvement. This effort comes mainly in the form of extra plugins which increase the range of features and enhance what WordPress can do. But like many other OSS programs WP comes without an instruction manual, which means that it's hard for beginners or new users to get to grips with what's under the bonnet. There are user forums and FAQs, but most people will feel more confident with an instruction manual, which is why this guide is welcome.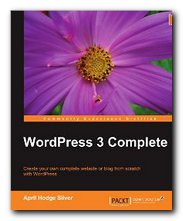 April Hodge Silver establishes from the start that WP is now a fully developed publishing platform and can be used for running a blog, a commercial web site, or even used as a CMS. You can run WP on your own computer using it as a server (that's the better option for advanced users) or you can let WordPress.com do it all for you, which means you have less control but is probably the better option for beginners or those who simply want their own blog. The 'completeness' of this guidance manual is that it covers all that's required for both options.
The advantages and disadvantages of each choice are explained clearly. But in either case you will need the features and the configuration settings fully explained. They can be learned through trial and error, but the benefit of a guidance manual is that it will shorten the time involved and flatten the learning curve.
My advice in brief is this: if all you need is a blog, choose WordPress.com, but if you want to customise your site, have advertising, and take advantage of plugins and widgets – go for your own installation.
Once you reach the user-friendly WP control panel, the principles are the same for both users. Silver explains how to create a post (WP jargon for a page that you see on screen) and how to add graphics which will make it look more attractive.
The huge advantage of a program such as WP is that everything you upload is stored in a database, but you can control how it is summoned into your pages. A single graphic for instance can be presented at thumbnail, medium, or large size.
WP offers two editors in which you generate your content – one a 'visual' editor which requires very few skills or technical knowledge, and an HTML editor for those who know a little about coding. As soon as you start posting you'll also start getting comment spam, but WP comes with a powerful tool called Akismet that deals with it automatically.
The control panel in WP makes all your work as easy as possible, but if you are not used to a CMS it can be difficult to conceptualise the relation between what you put in to the system and how it will appear on screen as the finished article. This guide does a good job at overcoming this problem by generous use of full scale screen shots, so you will know exactly what you should be looking at.
WP 3.0 now includes automatic menu creation. This can be used in conjunction with 'categories' to create the structure and the navigational system for your content. Silver then moves on to show how (free) widgets and plugins can be deployed to enhance a site. The great thing about these is that they are enhanced regularly, and can be updated with a single mouse click. And if you are really feeling ambitious you can even download a plugin to render your site ready for iPhone and iPod touch.
The central part of the book deals with the most important element of a WP site – the 'theme', which you lift off the shelf or develop yourself. This provides the basic structure of what your site will look like, it's style, features, and behaviour.
Then comes the issue of developing your own plugins and widgets. As you can probably tell from this description, these issues are becoming more technically demanding, but you don't need to know these techniques in order to create a successful site.
Silver finishes in the same technical vein – giving explanations for setting up an eCommerce site, then giving instructions for upgrading a WP installation. If you have opted for hosting on your own server, this will be invaluable, because WP is updated quite frequently, with new features and functions at every new version.
I spent a long time learning much of this the hard way – before WP manuals became available. And I certainly wish I'd had something like WordPress 3.0 Complete to hand at the time. It would have made my life a lot easier, and I would have known to get hold of the best online backup to save all my files whilst I was learning WordPress.
© Roy Johnson 2011
---
April Hodge Silver, WordPress 3.0 Complete, Birmingham: Pakt, 2011, pp.322, ISBN: 1849514100
---
More on technology
More on digital media
More on online learning
More on computers
---