tips on settings, plugins, and page tweaking
WordPress SEO (Search Engine Optimization) is the art of improving the quality of web pages in order to increase their rankings in search engines – and thereby obtain more site visitors. And it is an art, because despite the mathematical complexity of the algorithms used by Google and others to calculate page rankings, there are many variable features which decide the ranking of a web page. This means that experience and fine judgement are required in deciding which are most important. That's true even for WordPress, which has plenty of ib-built assistance on SEO.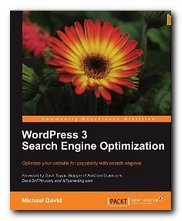 Nevertheless, there are basic principles that can be followed, and this manual offers a guide to what's required. The first part of the book is an explanation of how SEO works – the manner in which search engines measure the value of your web pages; what information about them they store; and most importantly, which features of your pages can be tweaked so that they will receive a higher rating. This is all delivered in a thorough, clear, and jargon-free style.
Michael David covers the main content of your site, how pages are built, and how its navigation is arranged. It's very reassuring to have the basics explained – particularly because of the ambiguous terms WordPress uses for its features. You need to know the difference between a 'post' and a 'page', even though they both look the same. And it's helpful to learn that an 'excerpt' of a post only becomes a chunk of your page if you don't fill in any text during the creation process. If there's nothing in the excerpt box Google will grab the first 55 words of the page – and this will create duplicate material, which search engines penalise. With clever SEO however, the excerpt can be used as the summary of a post – or even an advert for it, using key words.
Michael David claims that the issue of key words is the crucial part of SEO. There are plenty of free sites and software to help you determine the search terms customers are using to locate the products or services you have to offer. The important point here is to put on one side the terms you use, and look at the terms your customers choose.
If there's a weakness in Michael David's approach it's that in the practical examples he creates for discussion, he repeatedly chooses local businesses. 'Denver Air Conditioning Units' might be an easy company to get to the top of the search results – because you are limiting the reach of your web site to only that city area. But a company called 'H.P Lightbrown Ltd' that sells paper technology or architectural design services to a worldwide audience is a different matter. Nobody is going to search on the company name and you are competing with similar businesses throughout the world.
Many of the topics he covers are amazingly simple to effect – especially with all the help that WordPress offers – but they require careful thought. For instance a post contains a title, a permalink (URL), a slug, a description, an 'excerpt', and of course key words. All of these should be as brief as possible, but – here's the rub – they all need to be slightly different to avoid repetition, for which your pages might be penalised.
There's a short section on Google Analytics, explaining the information they feed back from spidering a site. This would have been more useful if it contained some practical examples of how this information could be used to tweak pages and increase their rankings.
He also includes a good chapter on writing the content of web pages with SEO in mind – the importance of being succinct and accurate, and how to include keywords without undue repetition. It's all excellent advice – though it has to be said that this very little to do with WordPress.
All of this is only a prelude to the real business of improving your page rankings – which must be done by generating inbound links – in other words, getting approval from other people's web sites. This is not easy, because it involves a very laborious process of making multiple submissions (requests for inclusion) to directories such as Yahoo.com and DMOZ.com. Alternatively you can try to attract links by generating content which is irresistibly popular or focused on something very popular or controversial.
The most common help you will be offered to deal with this issue is an invitation to join link farms. These are sites that are composed of nothing but links to other sites. Don't bother – because as Michael David explains, they are valueless. He also provides other warnings again what are called 'Black Hat' techniques.
There is the by now almost obligatory chapter on using social media tools to promote your website. This too involves generating content that will 'go viral' (attract millions of viewers) which is much easier said than done – and it's another chapter which has little to do with WordPress.
Fortunately Michael David finishes with a really useful appendix listing a selection of the most valuable WordPress plugins (all free) that can help you automate the processes he describes. I was mightily relieved to note that I had most of them installed on this site.
If you've got a WordPress blog or a full web site, you need to understand all the marvellous features WP offers to deliver good SEO. This guide not only shows you how to configure the software; it also explains why the strategies recommended are to your advantage.

  Buy the book at Amazon UK

  Buy the book at Amazon US
© Roy Johnson 2011
---
Michael David, WordPress 3.0 Search Engine Optimization, Birmingham: Pakt, 2011, pp.318, ISBN: 1847199003
---
More on eCommerce
More on media
More on publishing
More on technology
---