from blogging platform to content management system
WordPress was first launched in 2003 as open source software designed for blogging – and it is still used as such. But as its popularity has suddenly grown exponentially, enormous numbers of add-ons and plug-ins have been developed to provide extra features. Because it's built on a solid base of MySQL and PHP, these extra features have transformed it from an individualist tool into a major communication platform. So much so that it's now become a content management system (CMS) which offers an alternative to Joomla and Drupal. Releases of the software are named after jazz musicians. WordPress for Dummies is a guidance manual on how to use it.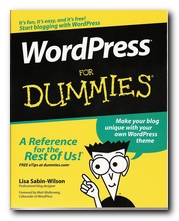 If you want to see the sorts of web sites which use this combination of WP + templates – look here, here, and here. This is the best of the current guides to using WordPress. The strongest point in its favour – apart from the very direct 'for Dummies' approach – is that it gives instructions for would-be bloggers , but also explains the more sophisticated uses of WP for those who want to build a web site using a content management system. The beauty of WordPress is that it can do both.
In fact WordPress is pretty thoughtful software – which is what's made it so popular. All blog posts can be drafted, auto-saved, spell-checked, and stored prior to publication. The options for interacting with site visitors are endless – which is presumably why WP has overtaken Blogger. It really does have the heavy-duty functionalities of a full-scale content management system combined with the ease of use of a simple blogging platform.
Basically, this guide covers the three main options for WordPress users – the hosted service where you have a blog at WordPress.com; the free software which you download from WordPress.org; and the multi-user version. And the author, Lisa Sabin-Wilson, now makes her living designing WordPress templates – so she knows what she's talking about.
I set up a test blog at WordPress recently [here] and can confirm that it took me less than five minutes from start to finish – and that includes uploading a picture and editing my profile.
WordPress successfully combines ease of use with a range of powerful features, so if you're thinking of starting your own blog, WP seems to be the way to go. So the first option, of using WP for blogging, couldn't be simpler.
Just in case you're worried, WordPress has got nothing to do with Microsoft Word. It's an Open Source program, and therefor free. You access the program without payment, and updates are available to you at any time without charge.
The second option of hosting the software on your own machine gives you scope to make use of lots of extra features. Many of these are free plug-ins which add extra functionality to the system. But even more important than the trimmings, this guide explains in detail the crucial installation and configuration of WordPress. This is the part most people are likely to find find difficult.
Ambitious bloggers and web designers will know that everybody wants to have an individualised theme – that's the style and layout of what appears on screen. How to do that is explained here as well – including some rudiments of style sheets and PHP coding.
The third option is to use the most advanced, multi-user version of WordPress. This is for people who want a community of users and contributors. I came across one recently – a football enthusiasts' site where fans email their reviews of matches directly from the game. Post-match reports are available even before they're on the national news channels. There are three whole chapters on how to set up and administer this version of the software.
Lisa Wilson finishes with recommendations for free WordPress themes and plug-ins. All of these allow you to customise your site or blog, and add functionalities that only a professional designer could have dreamed about only a couple of years ago.
It's almost impossible for these printed guides to keep up with the pace of software development. New features are being added whilst the book is with the printer. Just get the latest edition, and recognise that there may be differences in what appears on screen. Of course, you can always read the complete documentation at codex.wordpress.org – but if like me you prefer a proper book to consult, rather than reading off screen, then it's all here. This book not only showed me how to use WordPress: it helped me to understand some of the fundamental structures of content management systems.
© Roy Johnson 2010
---
Lisa Sabin-Wilson, WordPress for Dummies, New York: Wiley, 3rd edition 2010, pp.408, ISBN: 0470592745
---
More on technology
More on digital media
More on online learning
More on computers
---