practical self-help manual and resources guide for writers
Writers who wish to publish their work are often baffled by some of the mysteries of the publishing process itself. How can you get the attention of a publisher? Do you need an agent? How much can you expect to get paid? Should you submit an outline – or the complete work? Gordon Wells' book Writers' Questions and Answers provides responses to these queries, and raises lots more questions lots more which are frequently asked by people trying to get a foothold in the world of published writing.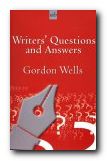 The press always seems to have stories of first-time authors who have been paid a five or six-figure advance for their first novel. But those who have tried to do the same thing know that it's a far more common experience to be dealing with rejection slips. How do you break into this seemingly charmed world?
Well, these guidance notes certainly tell you how to learn from rejection – and what to do about it. The advice is all practical, realistic, and based on the clear-eyed realisation that if you wish to succeed in this extremely competitive world – you need to know how it works.
Wells tackles all the most frequently asked questions – Who is the best person to approach with your masterpiece? Does vanity publishing work? What makes a best-seller? What if somebody poaches your ideas? Which publishers pay best?
If you want to move beyond the comforts of your local writers' circle into the world of commercial publishing, you should read what he has to say. Keep dreams of success in mind by all means, but take the trouble to learn how professional writers actually work.
© Roy Johnson 2002

  Buy the book at Amazon UK

  Buy the book at Amazon US
---
Gordon Wells, Writers' Questions and Answers, London: Allison & Busby, 2001, pp.143, ISBN: 0749005319
---
More on writing skills
More on language
More on literary studies
More on creative writing
---