develop your key self-promotion and marketing tool
This is a cheap and cheerful guide to producing an effective CV (curriculum vitae). Writing a CV that Works is suitable for complete beginners who may not have written one before, or for intermediate users who might want to develop their existing CV beyond merely a list of their previous jobs. It starts off with the reasons why you need a CV and why you should view it as a marketing tool rather than just a life synopsis. This is followed by advice on how to identify your own skills and achievements. Paul McGee introduces four case studies of typical adults wishing to seek, change, or improve a job. Then comes the meat of the matter – how to write the most persuasive account of yourself without fibbing or distortion.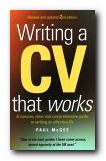 The secret is to spell out all your skills and your achievements in a positive manner. He offers templates which you can use, as well as some good tips for presenting any qualifications or training in the best possible light. Moreover, he doesn't shy away from the problem of what to do if you haven't got any qualifications.
He discusses the three main types of CV – chronological, functional, and targetted – and how to organise the information it contains. If you've never created a CV before, you'll be glad to see that he analyses several practical examples, showing their strengths and weaknesses. He also offers suggestions for how they could be improved.
He includes valuable advice on how to analyse job advertisements, and how to compose the covering letter which will accompany your CV. Then comes the part most people find very difficult indeed – Cold Calling, or applying for jobs which haven't been advertised.
Then finally the picture is rounded off with advice about preparing for and succeeding in an interview. You'll still need to do a lot of preparation before you get to this stage – but this short guide will help you through each part of the process.
© Roy Johnson 2000
---
Paul McGee, Writing a CV that Works, Plymouth: How to Books, 1997, pp.128, ISBN 1857033655
---
More on writing skills
More on language
More on grammar
---