gentle advice to students on academic writing skills
"We believe that writing for your studies and learning for your studies are so integrally related that they cannot be separated from each other. Writing essays is fundamentally about learning." That's the credo here, and this book sets out to help students develop academic writing skills at university level. Creme and Lea start out by exploring the problems associated with getting started. That is, how to remove writer's block by the techniques of practice writing, brainstorming, and generating your own questions.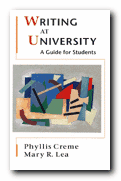 They explain why writing is difficult, then they discuss the early approaches to producing an assignment. This involves becoming aware of the protocols of the subject, and the type of assignment. The next step should be a close analysis of the question title, its key terms and any instructions. They offer some excellent worked examples of analysing assignments and showing what's required, and they also discuss the note-taking, mind-mapping, and various types of reading which should go into any preparation.
The central strategic issue in academic writing skills is matching your own writing techniques to the requirements of the task in hand. You may be a 'patchwork' or a 'grand plan' type of writer – but how is this strategy to be matched with a project which might require what they call chronological, descriptive, analytic, or evaluative writing? They explore what might be involved in each of these approaches. There are more good examples – along with neat tips, such as the idea that you should develop your skills by assembling a glossary of terms for your subject as you go along.
They also explore one of the issues which many students find difficult – making the transition from everyday personal or subjective writing to developing a more objective mode which adopts the appropriate 'language of discourse'. They end with tips for editing your work – including the details of grammar and punctuation – which are wisely left to the last.
The newly expanded second edition includes sections on report writing, electronic writing, learning journals, and using the Internet. This is a writing guide for someone who is prepared to sit down and read about the process of writing and who prefers the support of a sympathetic tutor rather than a source of reference or a compendium of rules. It's the sort of book which holds you by the hand and talks you gently through the issues.
© Roy Johnson 2008

  Buy the book at Amazon UK

  Buy the book at Amazon US
---
Phyllis Creme and Mary R. Lea, Writing at University, 3rd edition, Buckingham: Open University Press, 2008, pp.208, ISBN: 0335213251
---
More on study skills
More on writing skills
More on online learning
---