applying for sponsorship and financial support
Many people now work in jobs which rely on funding – from either government or the private sector. Some of them spend a lot of time re-applying for money each year, just to keep themselves in work. This book will be a godsend to those who need help on how to do it effectively. It will also be useful to people seeking sponsorship for their schemes and projects. Writing bids and funding applications is now one way of staying in employment.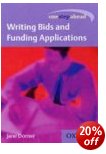 Jane Dorner is an experienced writer and researcher who knows her way around information and resources. She's good at explaining how to do the paperwork, and she's very good at uncovering resources that are available. She starts off here with what will be the crucial items of advice to most people – how to locate sources of funding to float your new scheme or keep your existing project alive.
Next comes 'preparing the pitch' – the important stage of presenting your case on paper. She explains how to make your bid attractive, persuasive, professional, and most of all convincing.
This is followed by a strategy for making bids which can be applied to any circumstance. It tackles thorny issues such as how much money to ask for and how to cost your own time. If you are a freelance worker, you'll find this section very instructive.
Next she deals with the separate parts of a submission document in great detail – the executive summary, financial statement, references, covering letter, and even how to package the application.
Then there's advice on how to express and style your bid – with excellent tips on avoiding jargon and vogue terms. Many such bids will be made in partnerships – so she covers that as well.
The book ends with a series of checklists, step procedures, lists of funding bodies, online resources, and agency addresses.
If you are thinking of applying for funding to anybody – from a charity to the European Union – do yourself a favour and buy a copy of this book. It could make the difference between getting the grant or not. Certainly if you follow the advice given here, you will maximise your chances.
© Roy Johnson 2005
---
Jane Dorner, Writing Bids and Funding Applications, Oxford: Oxford University Press, 2004, pp.138, ISBN: 0198606753
---
More on writing skills
More on language
More on grammar
---