getting into print with academic writing
Anyone who wants to get ahead in academic or professional life today knows that it's a question of publish or perish. This applies to colleges, universities, and even hospital Trusts. Yet writing for publication is one of the many skills which isn't formally taught. Once beyond undergraduate level, it's normally assumed that you will pick up the necessary skills as you go along. Writing for Academic Journals seeks to rectify this omission. Rowena Murray is an experienced writer on the subject (author of How to Write a Thesis and How to Survive Your Viva) and she is well aware of the time pressures people are under in their professional lives. What she has to say should be encouraging for those people in 'new' universities, people working in disciplines which have only recently been considered academic, and those in professions such as the health service which are under pressure to become more academic.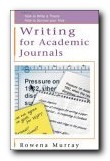 She starts out by looking at the psychology of academic writing – questions of confidence, motivation, and skill. She is well aware that there is an enormous amount of competitiveness, envy, and open criticism between departments and disciplines on the subject of who has published and who hasn't. Next she deals with the important issue of getting to know your target publications. There's really no way round this: you need to know what they're looking for, and how they want it presented.
For those who might not have written a scholarly paper before, she shows you how to analyse one and uncover its basic structure and arguments – with a view of course to constructing your own.
Do you want to publish your own articles or research? She likens the process to joining a conversation which has been going on for some time. You must first watch and listen, learn its rules and conventions, then when you have adopted them you might be accepted.
The next part of the book deals with how to find a topic and develop an argument. You can do this by mining your reading notes, expanding a brief presentation, or maybe adapting a chapter from your dissertation or thesis.
She explains several useful strategies to help getting started with writing and overcoming writer's block. There's also lots of sound advice on planning, outlining, and the art of writing abstracts.
She shows you how to draft your text and create the appropriate style. This is followed by the process of revision and editing,
There is further encouragement and some practical strategies for finding time in which to write. But by far the most useful is a chapter in which she shows you how to learn from letters of rejection – how to turn the disappointment of facing negative criticism into a positive learning experience.
Although it is aimed at those writing for publication, this book will in fact be useful for anyone who wishes to sharpen their academic writing skills and understand something about the process of preparing a text for its public launching.
© Roy Johnson 2009

  Buy the book at Amazon UK

  Buy the book at Amazon US
---
Rowena Murray, Writing for Academic Journals, Maidenhead: Open University Press, 2nd edition 2009, pp.288, ISBN: 0335234585
---
More on publishing
More on journalism
More on creative writing
More on writing skills
---