beginner's guide to electronic writing skills
Oxford University Press have just brought out a series of short beginners' manuals on communication skills. Their emphasis is on compact, no-nonsense advice directly related to issues of everyday life. Jane Dorner's guide Writing for the Internet is for people who want to write effective text on web sites. There's also an element of good design principles – because these considerations are inseparable if you are writing for the screen.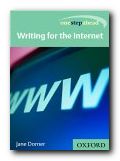 The topics she covers include the need for clarity, directness, and chunking; how to make text legible on a computer monitor; keeping in touch with the audience; good web page design; and – most importantly – how writing for the web differs from writing for print media. She is particularly good on what's new about writing web pages, and she tells you what is required without drowning you in IT jargon or the technical details of HTML coding.
There's a lot of good advice on editing, and how to use your word processor to better effect. She also has some interesting things to say about punctuation – particularly the influence of email conventions on writing for the screen.
There are also lots of excellent tips along the way – such as printing out your work with double line spacing in an unusual font. This makes it easier to spot mistakes. She also quite rightly advises against editing web pages in Microsoft Word, because it will add lots of unnecessary code.
Writers new to the Internet may be surprised to learn that one of the main skills required is that of summarising, and the guidance notes are right to draw attention to this. This means writing condensed, accurate, and descriptive titles for pages; succinct paragraphs; one or two-word section titles; and hyperlinks which say more than just "Click here".
For academic and professional writers there are some interesting notes on how to show quotations and references, plus why you need to need to manually check sorted lists and indexes.
She describes how to approach the design of a site by using three examples – a set of personal home pages, a commercial site (brochureware) and a community site. She also provides tips on how to get the basic navigation right, then finishes with a series of checklists, notes on style, web resources, and a glossary of terms.
The chapters of this book are short, but almost every page is rich in hints, tips, and quotes in call-out boxes; and there are suggestions for further reading. The strength of this approach is that it avoids the encyclopedic volume of advice which in some manuals can be quite frightening.
Jane Dorner scored a big success with her previous book The Internet: A Writer's Guide. Her latest is strongly recommended for anyone who wants to start writing Web pages and communicating effectively on the Internet.
© Roy Johnson 2002

  Buy the book at Amazon UK

  Buy the book at Amazon US
---
Jane Dorner, Writing for the Internet, Oxford: Oxford University Press, 2002, pp.128, ISBN: 0198662858
---
More on journalism
More on creative writing
More on writing skills
More on publishing
---