a selection of resources reviewed
The first thing you need to know about writing for the Web is that it's not the same as writing for print publication. This is because reading on screen and on the page are different. Text is not as sharp on a monitor as it is when printed with ink on paper.
Most people find reading on screen quite tiring. For this reason, you need to break up what you have to say into short chunks. And your sentences should be shorter than normal too. This might affect your normal writing style.
Writers new to the Internet may be surprised to learn that one of the main skills required is that of summarising. This means writing condensed, accurate, and descriptive titles for pages; succinct paragraphs; one or two-word section titles; and hyperlinks which say more than just "Click here".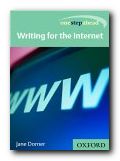 Writing for the Internet
Jane Dorner's book is probably one of the best places to start. This is for people who want to write effective text on web sites. There's also an element of good design principles – because these considerations are inseparable if you are writing for the screen. The topics she covers include the need for clarity, directness, and chunking; how to make text legible on a computer monitor; keeping in touch with the audience; good web page design; and – most importantly – how writing for the web differs from writing for print media.
Buy the book from Amazon UK
Buy the book from Amazon US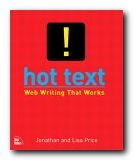 Hot Text: Web Writing that Works
If you want to look into the issues of chunking, summarising, and labelling in more detail, Jonathan and Lisa Price's book is the most thorough approach to Web writing I have come across. It's aimed principally at technical authors, but the book is so good anyone can profit from the principles they are offering.
It's packed with good examples of how to produce efficient writing – leading with punch lines; reducing ambiguity; how to write menus; creating the right tone; how to arrange bulleted lists; and where to place links grammatically for best effect. They cover a wide range of digital genres – web marketing copy, news releases, email newsletters, webzine articles, personal resumes, Weblogs – and they even provide tips for would-be job seekers.
Buy the book from Amazon UK
Buy the book from Amazon US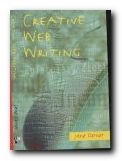 Creative Web Writing
If you are mainly interested in traditional creative writing Jane Dorner has another book which shows you the skills you need if you want to put your writing onto the Internet. She is speaking to those people who have been creating poems and stories in their back rooms and getting nowhere. This guide covers collaborative story-telling, research online, interactivity and flexible text, as well as the nuts and bolts of styling for screen reading. Most importantly, she explains the range of new markets, new technologies, and how to apply them. Creative genres are covered, including autobiography, poetry, broadcasting, screen-writing and writing for children.
She also describes how to look carefully at contracts, how to submit your writing to an electronic publisher, and how to deal with Print on demand (POD) outlets.There's a very useful survey of the various delivery methods and payments for eBooks. This is one of the most popular methods for aspiring authors to reach new readers. This section will be required reading if you are thinking of venturing into this world.
The central part of the book deals with new forms of writing using Web technologies. This is one field in which she has clearly done her homework. She shows examples of writing in the form of Blogs (Web-logs) email (epistolary) narratives, fictions illuminated by graphics, the weird world of MUDs and MOOs, Flash-animated writing, and phonetic poetry.
Buy the book from Amazon UK
Buy the book from Amazon US

Publish your writing
© Roy Johnson 2009
---
More on journalism
More on creative writing
More on writing skills
More on publishing
---