beginner's guide to report-writing skills
Oxford University Press have just brought out a series of short beginners' manuals on communication skills. Their emphasis is on compact, no-nonsense advice directly related to issues of everyday life. John Seely's book on writing reports covers all aspects of the process – from gathering information to presenting it in the most effective way. He starts by describing different types of report and then focuses quite rightly on the importance of pitching the content of a report at its intended audience. He explains the differences between recommendations, proposals, and reports, and shows how to research a topic, how to interview people, and how to record the results.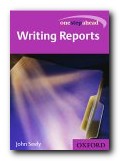 The central portion of the book – which will probably be of most use to beginners – is how to plan a report and give it structure. He also covers often-neglected issues such as the importance of an executive summary and the need to organise details in various appendices. I was glad to see that he emphasises the need to be prepared to make several drafts of any report which is supposed to be important, and he has good advice on the presentation of visual data via graphs, diagrams, tables, and charts.
This is not just aimed at those who write reports for business, but also those who participate in local societies and voluntary groups. They will be glad of the easy look-up advice and sample reports with analytical and critical commentary which is also supplied.
The chapters of this book are short, but almost every page is rich in hints, tips, and quotes in call-out boxes. The strength of this approach is that it avoids the encyclopaedic volume of advice which in some manuals can be quite frightening.
© Roy Johnson 2002
---
John Seely, Writing Reports, Oxford: Oxford University Press, 2002, pp.120, ISBN 0198662831
---
More on writing skills
More on language
More on grammar
---