writing, planning, and commercial skills
What exactly is a successful academic book? One which sells a lot of copies, or one which helps to promote your career? Most people would trade the first success for the long-term benefits of the second. Anthony Haynes starts his guide to scholarly authorship by considering the possible justifications for writing: financial, self-esteem, altruism, and even the desire to learn. But these are all rendered almost redundant by the current climate in the academic world. There is now an overwhelming requirement to publish – unless you want to end up in one of those mind-numbing departments of 'Maintaining Academic Standards' or 'Human Resources and Professional Development'. Writing Successful Academic Books shows you how to avoid such a fate.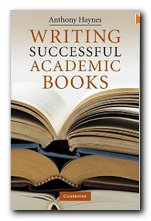 He goes to some length explaining genre – a subject to which any aspiring writer ought to pay attention. For an academic book proposal to be acceptable, it needs to fit into a known category. There's also a very upbeat account of the current state of digital publishing. His argument is that academic authors have everything to gain from online journals, eBooks, and Print on Demand. He doesn't touch on Stevan Harnad's argument for bypassing publishers by self-archiving research directly – but that's understandable, given that his topic is print publishing.
Possibly the most difficult step on the publication ladder for would-be academic authors is the first rung – that is, successfully pitching a book proposal to an acquisitions editor in the publishing house. He suggests a very rigorous process of preparation for this step – and offers both a template and even more usefull the sample proposal for the book itself he pitched to Cambridge University Press. You can see quite clearly from the quality of the outline why it was successful.
Next comes the contract, which many first-time writers ignore – possibly because they are so relieved to have had their work accepted. His advice is quite clear. You should read the contract carefully, make sure you understand all its content, and even be prepared to ask for changes – some of which he offers as suggestions.
The best part of the book deals with the actual business of writing – that is, the creative activity which will produce the finished work. He's quite right to emphasise the idea of process rathert thanproduct. Successful writing is not a one-stage activity: it requires preparation, planning, reflection, and a number of drafting stages to produce the text, then edit it and eliminate any flaws. He discusses a variety of strategies for generating the basic text, then shows how it can be edited by reduction, addition, and re-arranged before checking for mistakes.
After these issues of structure and production, he then goes on to consider some of the stylistic niceties of efficient writing – such as tone, choice of lexicon, and the relative elegance with which paragraphs can be started and ended. Much of this sort of thing is covered in other writing guides.
The section of Haynes' book I found most interesting was how to get a publishable book out of a body of research, or 'How to turn a dissertation into a monograph'. He outlines three approaches: i) start afresh on something new; ii) make minor revisions and prune the text; and iii) create a new proposal using re-purposed work. He recognises that pressures of acquiring tenure rules out the first, does not recommend the second, and then demonstrates how to make the third successful.
The latter part of the book is taken up with practical matters such as time management and how to deal with editors, proofreaders, indexers, and people who will design and market your book.
I once submitted my doctoral thesis for publication and was dismayed when it was not immediately snapped up. Of course, I can now see why not. I had not done any of the preparatory work of transforming it into a commercial product which is recommended here. If I had read this book then, I wouldn't have made that mistake. And if you're in that position now, you can avoid making it by following his advice.

  Buy the book at Amazon UK

  Buy the book at Amazon US
© Roy Johnson 2010
---
Anthony Haynes, Writing Successful Academic Books, Cambridge: Cambridge University Press, 2010, pp.175, ISBN: 0521730740
---
More on publishing
More on journalism
More on creative writing
More on writing skills
---