illustrated showcase of 20th century type designers
This book became an instant classic on font design when it first appeared. The second revised and enlarged edition is even more impressive. In structure, it's quite simple. Ten chapters are split into periods of a decade each. It starts from the Art Nouveau type of the early 1900s then works its way to the present via a series of beautifully designed pages.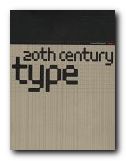 Lewis Blackwell has a very keen eye and a sharp sense of historical innovation in spotting the typographical innovations developed by designers such as Marinetti and the Italian futurists, El Lissitsky, Moholy-Nagy, and the Bauhaus workers.
All the examples are illustrated by type in practical use, set alongside a number of sample font sets of what have become modern classics. There are some particularly good reproductions of book pages and the use of typography as a design feature.
What he's done is to distil the essential innovations of designers such as Jan Tschichold and Paul Renner, and he places them in a well developed historical context. Into the middle of the century the names become Saul Bass, Roger Excoffon, Paul Rand, and Adrian Frutiger.
The 1960s sees the first signs of the influence of computer technology on type design, as well as the explosion of pop psychedelia on design. Some of the rock music albumn covers might make you cringe if like me you lived through that period.
In the 1980s the major influence is Neville Brody – who is still very popular and influential – as well as the Emigreé designers Rudy Vanderlans and Zuzana Licko. Next comes the 'expressive' school of David Carson. He challenged the notion of type's legibility to the point where the pages of his work in the influential Ray Gun became almost unreadable.
Yet this experimental approach to designing type forms continued unabated in the 1990s, alongside more traditional work in public signage done by designers such as Erik Spiekermann. All of this is given generous coverage, and the book ends with a section on type description and classification – the most modern examples of which become BC (Beyond Classification).
This is an excellent piece of work which well deserves its place in the list of favourite typography manuals amongst professional designers.
© Roy Johnson 2000

  Buy the book at Amazon UK

  Buy the book at Amazon US
---
Lewis Blackwell, 20th Century Type: Remix, London: Lawrence King, 1998, pp.191, ISBN: 1856691160
---
More on typography
More on design
More on media
More on web design
---