a critical examination of Nabokov's collected stories
'A Busy Man' (1931) is a typically post-Chekhovian story in that it concerns the gradual revelation of character rather than any series of dramatic events arranged to reach a climax. And it is a further variation on Nabokov's favourite theme – death – featuring yet another of his Gogolian petty-bourgeois small men.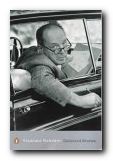 Grafitski is a writer of topical poems for newspapers. He is friendless, shabby, and he leads a completely empty life – 'a life that [makes] little sense – the meagre, vapid existence of a third-rate Russian émigré' (DS, p.168). He is also neurotically self-obsessed, but cultivates his sensibility in a manner which Nabokov renders quite positively. However, he is haunted by a presentiment that he will die at the age of thirty-three, and this idea eventually obliterates everything else from his puny life.
He meditates on Death and how it could be avoided or prepared for. When he reaches what he believes will be his fatal year he sinks into 'transcendental cowardice' (p.176) but survives to celebrate his thirty-fourth birthday. The story ends with his feeling relieved, but vaguely aware that there was something he had not understood or thought through properly.
This 'something' is of course the fact that he has wasted his life waiting for an event which has not taken place; that it was only this arbitrary notion which gave his life any meaning; that he has not learned from his own stupidity; and that Death still awaits him anyway at some unspecified time in the future. The story is Nabokov's version of the subject Henry James made famous in The Beast in the Jungle.
It is one of Nabokov's slighter pieces. He seems at his best when he is handling more energetic narratives full of dramatic ironies (The Return of Chorb) or when his static meditations are based upon more complex material (Spring in Fialta). What this story has to commend it however is its development of the subtle narrative voice Nabokov seemed to be working on at this time.
As his style in general became more self-conscious and baroque, Nabokov began to mingle together a variety of narrative modes. In this story we have a third person omniscient narrative mode mingled with a form of first person interlocutor, as well as a frequently indeterminate mode which seems to be something like unspoken thought:
'the dream he now remembered was but the recollection of a recollection. When was it that dream? Exact date unknown. Grafitski answered, pushing away the little glass pot with smears of yoghurt and leaning his elbow on the table. When? Come on – approximately? A long time ago. Presumably, between the ages of ten and fifteen: during that period he often thought about death – especially at night' (p.165)
For all his modernity (and his neologisms apart) Nabokov very rarely invents anything new. What he offers is a virtuoso display of change-ringing on existing narrative modes and rhetorical devices. He makes more demands on the reader in doing so of course – but then he also offers more aesthetic rewards to those prepared to do the work.

© Roy Johnson 2005
---

  Vladimir Nabokov: The Collected Stories – Amazon UK


  Vladimir Nabokov: The Collected Stories – Amazon US
---
Vladimir Nabokov web links
Vladimir Nabokov greatest works
Vladimir Nabokov criticism
Vladimir Nabokov life and works
---