alternatives for the famous, notorious, and infamous
Have you ever wondered where nicknames come from – or why we use them? You can find out here in this brisk and witty excursion into the stories behind the nicknames of hundreds of famous people, places, and institutions. It's a combination of nicknames used in sport, politics, public life, and cinema. Strangely enough, showbiz seems not to generate many nicknames amongst its members – though they do better with catchphrases.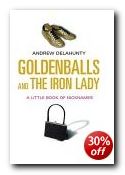 Entries run from the deeply ironic Action Man (Prince Charles) to the affectionate Zizou (Zinedine Zidane – the French footballer). It's interesting to see how the popularity of one nickname can lead to the creation of another. For instance … Gazza (Paul Gascoigne – footballer) leads to Hezza (Michael Hezeltine – politician) and even Prezza (John Prescott – politician) the notoriously gauche deputy to Tony Blair (Bambi), who also famously got the nickname two Jags when as the minister for transport he used two executive saloons to drive 300 yards to deliver a speech urging less car use and fuel conservation.
This spirit of linguistic inventiveness it also evident in names and phrases coined from other forms of word play. So Oxford, whose nickname is the city of dreaming spires (a quote from Thyrsis by Matthew Arnold) becomes the city of perspiring dreams, and former liberal leader Paddy Ashdown immediately becomes Paddy Pantsdown when it is revealed he has been having Ugandan discussions with his secretary.
This is a compilation which will be ideal for anyone who wants to catch up with cultural life at street level in the UK and the US. It includes football clubs – the Cottagers (Fullham – not what you might think) the Gunners (Arsenal), and the Blades (Sheffield) – and jazz musicians Earl Hines, Jelly Roll Morton, and Zoot Sims.
It's written by lexicographer Andrew Delahunty who also produced The Oxford Dictionary of Nicknames. There's a full set of nicknames for USA states, and he also covers the origins of all those nicknames which are foisted on to people with certain surnames – such as Blanco White, Nobby Clark, and Dixie Dean.
He also includes plenty of gossip about who was whose lover – from silent film star Pola Negri right up to David Beckham – the Goldenballs of the book's title – according to his wife Posh.
There are one or two etymologies that I think slang experts such as Michael Quinion might dispute – but on the whole most are convincingly sourced. This is one of those reference books which it's difficult to put down, once you start reading.
© Roy Johnson 2005
Buy the book at Amazon UK
Buy the book at Amazon US
---
Andrew Delahunty, Goldenballs and the Iron Lady: a little book of nicknames, Oxford: Oxford University Press, 2004, pp.254, ISBN 0198609647
---