a critical examination of Nabokov's collected stories
Part I – Apprentice Years: Stories 1924 – 1929
Following the revolution of 1917, Nabokov's family left Russia and settled in Berlin, which was one of the two principal centres of emigration along with Paris. Nabokov was sent to Trinity College Cambridge in 1919, and after graduation he rejoined his family, supporting himself by giving private English lessons and coaching tennis.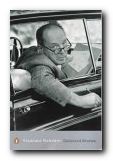 After having written mainly poetry in his youth, his first short stories appeared in the Russian language émigré newspapers printed in Berlin – notably Rul' (The Rudder) which had been edited by his father. The variety of narrative modes and strategies adopted in the first dozen or so stories suggest that he was casting around to locate the most comfortable approach to this particular literary genre – and he was at the same time of course also writing the first of his novels.
There are simple realistic narratives, prose poems, character sketches, contes, fantasies, and short meta-fictions which bring the conventions of fictional narrative itself into question. Many of the experiments he made, influenced not only by the narrative devices of his favourite Russian authors – Pushkin, Gogol, Chekhov – but by immediate predecessors such as Bely, bring him obliquely into line with other modernist writers and conscious prose stylists of the period (James Joyce, Katherine Mansfield, and Virginia Woolf) who, similarly, were seeking to intensify the expressive power of prose by bringing to it the devices and tropes of poetry. But at the same time it is interesting to note how skilfully he deploys the traditional devices of narrative prose, ringing the changes upon them to divert and engage the reader.
Nabokov is by now of course celebrated as a writer whose prose is full of puns, word games, and a variety of literary tricks: yet the early stories, for all the glitter and artfulness of his style, deal with themes which are both serious and universal. The three most important and regularly recurring of these are the relationship between life and death; the function of memory and its relation to the passage of time; and the nature of individual personality. To these might be added a fourth which runs throughout the whole of Nabokov's work until the late baroque inventions – the nature and the materiality of the objective world whose sensual qualities he takes great delight in recording. It sometimes seems as if he is observing such details in fear that they might otherwise be lost forever.
---
In his earliest published story, 'A Matter of Chance' (June 1924), a Russian émigré, Aleksey Luzhin (whose name was later to be given to the chess master of The Defense) is working as a dining car attendant on the Berlin-Paris express. In a state of terminal despair, he dreams of a lost St. Petersburg and a lost wife Lena; he has become a cocaine addict; and meanwhile he plans to commit suicide by putting his head between the buffers of two coupling carriages.
Unknown to him, his wife gets on the train to join him in Paris and meets an elderly princess who is a family friend of her husband. Luzhin just fails to put out the dining car reservation slips (and thus recognise his wife's name), and he cannot remember who the princess is when he sees her. His wife just fails to enter the dining car and loses her wedding ring instead. When the dining car is disconnected for cleaning Luzhin just fails to discover the ring, descends from the carriage to commit his fatal act, and is run down instead by a passing express.
Here we have the Nabokovian story in esse. The overt subject matter is émigré life, which was to form the substance of so many stories for the following twenty years. And the themes – separation, loss, and death – flow out of this subject: Luzhin is separated from his wife; he has lost his homeland; and he meets death both as a willed plan and the result of an arbitrary whim of fate (the passing train).
The form of the story is traditional – a small but dramatic incident from life, a compact narrative with a very definite resolution; and it is told in a manner similar to that adopted by many writers of short stories after Maupassant and Chekhov – in a spare and understated style, with carefully selected details.
Nabokov's inventiveness is well illustrated by the manner in which he plays with the conventions of literary suspense to subvert reader-expectation. Almost every one of the story's details – the wife's chance appearance, the princess who is a relative, the reservation slips, the loss of the ring – all act as clues suggesting that a meeting between Luzhin and his wife is likely to take place. But the 'chance' of it doing so is transformed into an ironic failure of circumstances.
The story is narrated in a traditional third person mode, and sets out to be normally realistic in its depiction of the world: 'The brick rear walls of houses went gliding past; one of them displayed the printed advertisements of a colossal cigarette stuffed with what looked like golden straw' (TD,p.146). But even at this early stage in his development there are signs of his drawing attention to the conventions of fiction by his faux-naive variation on traditional story-opening: 'He had a job as a waiter in the international dining car of a German fast train. His name was Aleksey Lvovich Luzhin' (p.143).
The cigarette advertisement also illustrates Nabokov's persistent desire to render as strikingly as possible the nature of the everyday world, particularly its surfaces and textures. And this concern meshes significantly with that of separation and loss in the sense that whilst vigorously trying to recapture his own past Nabokov offers as an antidote to the impossibility of ever doing so a joyous apprehension of the everyday world in Berlin – something which did not make him at first popular with his fellow Russian émigrés, who felt that this attitude was a form of cultural betrayal.
Yet there beneath the surface of German life as seen from the dining car of the schnellzug lies cultural continuity in his allusion to one of the greatest Russian novels (Anna's death beneath the wheels of a train in Anna Karenina, if not her period of drug addiction) a novel for which Nabokov had profound admiration, rating Tolstoy as 'the greatest Russian writer of prose fiction.'

© Roy Johnson 2005
---

  Vladimir Nabokov: The Collected Stories – Amazon UK


  Vladimir Nabokov: The Collected Stories – Amazon US
---
Vladimir Nabokov web links
Vladimir Nabokov greatest works
Vladimir Nabokov criticism
Vladimir Nabokov life and works
---