tutorial, commentary, study resources, plot, and web links
A Summing Up is one of a number of short stories by Virginia Woolf set at a party in the Westminster home of Richard and Clarissa Dalloway, the hosts of the central social event in her novel Mrs Dalloway (1925). The story was first published in A Haunted House (1944) and then later reprinted with the collection of stories and sketches Mrs Dalloway's Party published by the Hogarth Press in London in 1973.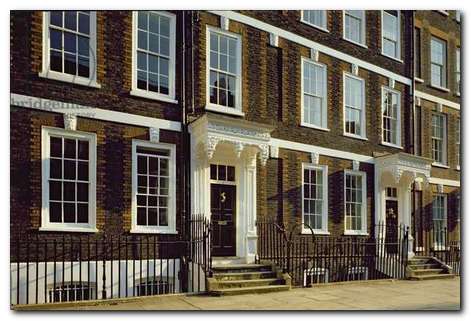 houses in Westminster
---
A Summing Up – critical commentary
Like all the other stories in the Mrs Dalloway's Party sequence, this is principally a study in social alienation, egoism, and the life of the imagination. It is yet another example of people interacting politely in what appears on the surface to be a civilized manner, whilst the narrative reveals the emotional and intellectual chasms that separate them.
Bertram Pritchard is an almost comic study of the crashing bore, even though he is 'an esteemed civil servant and a Companion of the Bath.'
Written down what he said would be incredible — not only was each thing he said in itself insignificant, but there was no connection between the different remarks.
Sasha Latham on the other hand is 'tall [and] handsome' but inwardly feels lacking in confidence. Disattending to her fellow guest, she retreats into a series of imaginative speculations concerning the nature and the history of society.
There is no overt criticism of Pritchard, only deeply ironic counterpoint. Sasha Latham even manages to feel sympathetic towards him as she searches through a jumble of memories and sense impressions for some sort of meaningful insight.
And she finds it – very briefly – in the vision of a tree she sees in the garden. She also realises that the revelation might come by accident, and it does as she feels that the human soul 'is by nature unmated, a widow bird; a bird perched aloft on that tree' – before the revelation is shattered both by Pritchard guiding her back to what he sees as their social duty in the house, and by the inarticulate shriek she hears from the city that surrounds them.
---
A Summing Up – study resources

The Complete Shorter Fiction – Vintage Classics – Amazon UK

The Complete Shorter Fiction – Vintage Classics – Amazon US

The Complete Shorter Fiction – Harcourt edition – Amazon UK

The Complete Shorter Fiction – Harcourt edition – Amazon US

Monday or Tuesday and Other Stories – Gutenberg.org

Kew Gardens and Other Stories – Hogarth reprint – Amazon UK

Kew Gardens and Other Stories – Hogarth reprint – Amazon US

The Mark on the Wall – Oxford World Classics edition – Amazon UK

The Mark on the Wall – Oxford World Classics edition – Amazon US

The Complete Works of Virginia Woolf – Kindle edition

The Cambridge Companion to Virginia Woolf – Amazon UK

Virginia Woolf – Authors in Context – Amazon UK

The Cambridge Introduction to Virginia Woolf – Amazon UK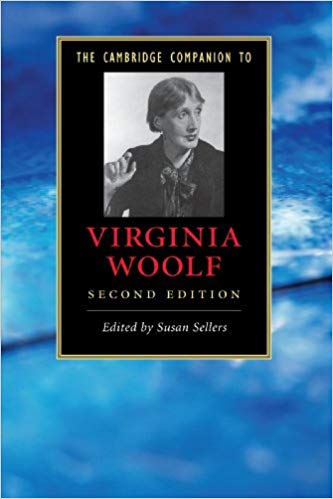 ---
A Summing Up – story synopsis
Bertram Pritchard and Sasha Latham are guests at an evening party given by Clarissa Dalloway in central London. They stroll together in the small garden in the shadow of Westminster. He is a civil servant and a complete bore: she is uncertain about herself, but the story is articulated largely from her point of view.
Because Bertram Pritchard is a non-stop talker about trivialities, she stops listening to him and thinks instead of how there is now a civilized society where once there were swamps. She admires the courage and the sophistication of other people to succeed in society – even Bertram Pritchard.
They look over the garden wall, and she becomes conscious of the fact that they are in the middle of a busy city. Then they sit and talk to people she doesn't actually know, and her thoughts drift back to fragments of what she learned at school. She wonders which of her impressions of the world are the most accurate. She has a visionary experience that the human soul is single and unattached. But at that precise moment an inarticulate cry sounds from within the city, and her vision escapes into the night.
---
A Summing Up – characters
| | |
| --- | --- |
| Bertram Pritchard | an 'esteemed' civil servant and bore |
| Mrs Sasha Latham | a guest at the party |
| Clarissa Dalloway | a society hostess |
---
Further reading

Quentin Bell. Virginia Woolf: A Biography. New York: Harcourt Brace Jovanovich, 1972.

Hermione Lee. Virginia Woolf. New York: Alfred A. Knopf, 1997.

Nicholas Marsh. Virginia Woolf, the Novels. New York: St. Martin's Press, 1998.

John Mepham, Virginia Woolf. New York: St. Martin's Press, 1992.

Natalya Reinhold, ed. Woolf Across Cultures. New York: Pace University Press, 2004.

Michael Rosenthal, Virginia Woolf: A Critical Study. New York: Columbia University Press, 1979.

Susan Sellers, The Cambridge Companion to Virginia Woolf, Cambridge University Press, 2010.

Virginia Woolf, The Common Reader. New York: Harvest Books, 2002.

Alex Zwerdling, Virginia Woolf and the Real World. Berkeley: University of California Press, 1986.
---
Other works by Virginia Woolf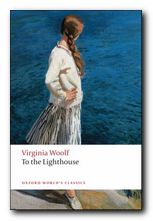 To the Lighthouse (1927) is the second of the twin jewels in the crown of her late experimental phase. It is concerned with the passage of time, the nature of human consciousness, and the process of artistic creativity. Woolf substitutes symbolism and poetic prose for any notion of plot, and the novel is composed as a triptych of three almost static scenes – during the second of which the principal character Mrs Ramsay dies – literally within a parenthesis. The writing is lyrical and philosophical at the same time. Many critics see this as her greatest achievement, and Woolf herself realised that with this book she was taking the novel form into hitherto unknown territory.


Buy the book at Amazon UK


Buy the book at Amazon US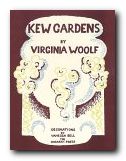 Kew Gardens is a collection of experimental short stories in which Woolf tested out ideas and techniques which she then later incorporated into her novels. After Chekhov, they represent the most important development in the modern short story as a literary form. Incident and narrative are replaced by evocations of mood, poetic imagery, philosophic reflection, and subtleties of composition and structure. The shortest piece, 'Monday or Tuesday', is a one-page wonder of compression. This collection is a cornerstone of literary modernism. No other writer – with the possible exception of Nadine Gordimer, has taken the short story as a literary genre as far as this.


Buy the book at Amazon UK


Buy the book at Amazon US
---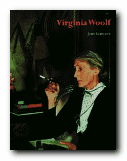 Virginia Woolf is a readable and well illustrated biography by John Lehmann, who at one point worked as her assistant and business partner at the Hogarth Press. It is described by the blurb as 'A critical biography of Virginia Woolf containing illustrations that are a record of the Bloomsbury Group and the literary and artistic world that surrounded a writer who is immensely popular today'. This is an attractive and very accessible introduction to the subject which has been very popular with readers ever since it was first published..


Buy the book at Amazon UK


Buy the book at Amazon US
---
Virginia Woolf – web links
Virginia Woolf at Mantex
Biographical notes, study guides to the major works, book reviews, studies of the short stories, bibliographies, web links, study resources.
Blogging Woolf
Book reviews, Bloomsbury related issues, links, study resources, news of conferences, exhibitions, and events, regularly updated.
Virginia Woolf at Wikipedia
Full biography, social background, interpretation of her work, fiction and non-fiction publications, photograph albumns, list of biographies, and external web links
Virginia Woolf at Gutenberg
Selected eTexts of her novels and stories in a variety of digital formats.
Woolf Online
An electronic edition and commentary on To the Lighthouse with notes on its composition, revisions, and printing – plus relevant extracts from the diaries, essays, and letters.
Hyper-Concordance to Virginia Woolf
Search texts of all the major novels and essays, word by word – locate quotations, references, and individual terms
Orlando – Sally Potter's film archive
The text and film script, production notes, casting, locations, set designs, publicity photos, video clips, costume designs, and interviews.
Women's History Walk in Bloomsbury
Tour of literary and political homes in Bloomsbury – including Gordon Square, Gower Street, Bedford Square, Tavistock Square, plus links to women's history web sites.
Virginia Woolf Society of Great Britain
Bulletins of events, annual lectures, society publications, and extensive links to Woolf and Bloomsbury related web sites
BBC Audio Essay – A Eulogy to Words
Charming sound recording of radio talk given by Virginia Woolf in 1937 – a podcast accompanied by a slideshow of photographs.
A Family Photograph Albumn
Leslie Stephen compiled a photograph album and wrote an epistolary memoir, known as the "Mausoleum Book," to mourn the death of his wife, Julia, in 1895 – an archive at Smith College – Massachusetts
Virginia Woolf first editions
Hogarth Press book jacket covers of the first editions of Woolf's novels, essays, and stories – largely designed by her sister, Vanessa Bell.
Virginia Woolf – on video
Biographical studies and documentary videos with comments on Virginia Woolf and the Bloomsbury Group and the social background of their times.
Virginia Woolf Miscellany
An archive of academic journal essays 2003—2014, featuring news items, book reviews, and full length studies.
© Roy Johnson 2014
---
More on Virginia Woolf
Virginia Woolf – short stories
Virginia Woolf – greatest works
Virginia Woolf – criticism
Virginia Woolf – life and works
---