an introduction to her life and work
This is a best-selling book from Thames and Hudson. It's slim, cheap, and you might almost say a little old fashioned – yet it goes on being popular year after year. And it's easy to see why. The text is written by John Lehmann who actually worked for Virginia Woolf and her husband Leonard at the Hogarth Press. Indeed, at one time he even wanted to take it over and run it on fully professional lines – something which Leonard quite rightly resisted, arguing that it's strength lay in its independence. But the real delight the book offers is a wonderful collection of pictures of Woolf and her friends who were part of the Bloomsbury Group.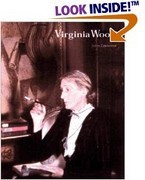 More than that, it combines a lightness of touch in presenting Woolf's biography with a very engaging introduction to each of her major works. Lehmann follows the story of Woolf's life and her social background – an upper-middle class milieu with artistic and literary connections (Henry James was a friend of the family) self-educated in her father Leslie Stephen's library, falling in love with other women, and then the establishment of the Bloomsbury group in Gordon Square with her brother Thoby and his Cambridge friends John Maynard Keynes and Lytton Strachey.
She began her literary career, then married Leonard Woolf, who looked after her patiently through all her periods of mental and physical illness. As therapeutic activity, he even bought a printing machine which enabled them both to set up the Hogarth Press – which went on to become very successful.
Lehmann traces her literary development, from the conventional approach of The Voyage Out and Night and Day, to the artistic breakthroughs of Jacob's Room and Mrs Dalloway, so his biography also provides and intelligent guide to her writing as well as her life.
Despite being a close personal friend of both Virginia and Leonard, he doesn't shy away from the love-affair she had with Vita Sackville-West, linking it perceptively to his account of Orlando, which it inspired. Then his transition via A Room of One's Own to The Waves traces her intellectual development as both a feminist and a novelist. His account of The Waves will help anyone who needs preparation for an attempt at what is quite a difficult novel.
Lehmann, rather like Leonard Woolf, thinks Three Guineas is not one of her best non-fiction works – an opinion I don't think many people would agree with today. But the remainder of his explications and judgements are really helpful for anybody who wants to understand her work.
However, the real delight of the book is the photographs which range from her early through to her late life. They include portrait paintings, sketches made by artists such as Roger Fry and her sister Vanessa Bell, book jacket designs, and pictures of the houses where she lived and wrote.
© Roy Johnson 2000

Buy the book at Amazon UK

Buy the book at Amazon US
---
John Lehmann, Virginia Woolf, London: Thames and Hudson, 1987, pp.128, ISBN 0500260265
---
More on Virginia Woolf
Virginia Woolf – web links
Virginia Woolf – greatest works
Virginia Woolf – criticism
More on the Bloomsbury Group
---