why designers must keep users in mind
Peter Morville was co-author (with Louis Rosenfeld) of one of the essential books on information architecture, Information Architecture for the World Wide Web. This is his solo follow-up, which looks at the latest features of on-line life and tries to see what lies ahead. Ambient Findability is a very positive, almost excited, view of the last decade in web development. His central thesis is that information literacy, information architecture, and usability are all critical components of a new world order.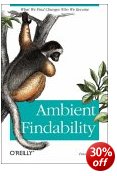 He believes we have almost an ethical imperative to design the best possible software and web services to enhance the quality of our online life. All this has come about because of the unprecedented developments in data manipulation, connectivity, hyperlinking, and interactive services which have emerged in the last few years.
His new take on arranging information and navigational systems insists that they must be constructed around what the user requires, not the designer, and that they must be constructed with maximum findability in mind. The users, purchasers, or consumers are now Kings – because of their experiences on sites such as eBay and Amazon.
Never before has the consumer had so much access to product information before the point of purchase.
He looks at wayfinding systems in the natural world, then considers the relationship between language and information retrieval, including how we define meta-data. He sets great store by the theory of information analyst Calvin Moores, who suggested that people will not seek information that makes their jobs harder, even if it might benefit the organisation they work for.
For this reason, he has positive things to say about gossip and browsing. We are conditioned by evolution to pick up signals and recognise what he calls 'textual landmarks' in our search for information and our interpretation of the world. "Technology moves fast. Evolution moves slow."
Because computers are becoming smaller and smaller, he then moves on to an encomium for the mobile device. This is followed by the technology which comes closest to fulfilling his desire for maximum findability – GPS (Global Positioning Systems).
He then looks at the issues of reconciling good web design with the competing demands of usability and efficient marketing – and solves the problem with a mantra that summarises his principal thesis: "Findability precedes usability. You can't use what you can't find."
This leads into what I take to be the heart of the book – his take on the state of information architecture today. First he explains the competing views regarding the 'semantic web', which centre around definitions of meta-data so far as I understand it. Then he argues that these views can be reconciled if we accept the traditional roles of taxonomies for defining data – along with what he called 'folksonomies' whereby people put their own definitions on tagged objects.
This is not as important a book as Information Architecture for the World Wide Web, but it's a thought-provoking guide to recent web developments and what might happen next in the online world. It's full of interesting and provocative ideas, relevant graphics (first time I've seen colour in an O'Reilly publication!) and all the references are fully sourced.
© Roy Johnson 2005

  Buy the book at Amazon UK

  Buy the book at Amazon US
---
Peter Morville, Ambient Findability, Sebastopol, CA: O'Reilly, 2005, pp.188, ISBN: 0596007655
---
More on information design
More on design
More on media
More on web design
---