tutorial, commentary, study resources, and web links
Armadale (1864) was the follow-up to two previously successful novels by Wilkie Collins – The Woman in White (1860) and No Name (1862). It didn't result in quite so many magazine sales, but it certainly helped to cement his position of the master of the 'sensation novel' – of which this was his longest. He was paid £5,000 for the complete work – money that went to support the two separate families he maintained in London's fashionable West End at the same time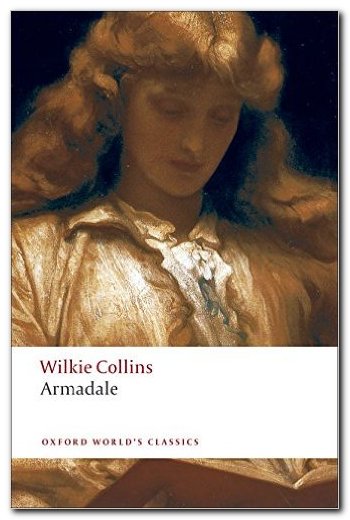 ---
Armadale – a note on the text
Armadale first appeared as twenty serial episodes in the Cornhill Magazine between November 1864 and June 1865. It then published in two volumes by Smith, Elder in May 1865. There were minor revisions to the text, and Collins added a preface and even an explanatory appendix to cover some of the issues he wished to address in the novel.
An American edition of the novel appeared as a serial in Harper's Monthly Magazine from December 1864 to July 1865, then a one-volume edition published by Harper in 1866.
Collins also produced a stage dramatisation of the story, though this was never given a live production. He wrote this to protect his copyright, because at that time there was nothing to prevent pirated versions of a story appearing on stage – unless a separate version had been written by its original author.
This phenomenon of publishing in a variety of genres also illustrates the commercial enterprise of writers such as Collins and his friend Charles Dickens. They were keen to exploit all possible versions of their works – as newspaper and magazine serials, in volume form as novels, and as stage productions. This is not unlike contemporary dramas which may appear as television serials, cinema movies, novelizations, and boxed sets of CDs, as well as in downloadable digital formats.
---
Armadale – critical commentary
The sensation novel
Wilkie Collins, along with his contemporary Mary Elizabeth Braddon, became famous for the sensation novel in the 1860s. He made his name with The Woman in White (1860) and she had a best-seller with Lady Audley's Secret (1862). These were novels that introduced elements of mystery, suspense, and crime into otherwise ordinary social settings.
They were also designed to titillate and shock readers by including topics that skirted as closely as possible to what was acceptable in popular fiction at the time. These topics included illegitimacy, secret marriages, forged wills, theft, contested inheritance, suicide, and even murder.
Armadale has its fair share of this type of subject matter embedded in the plot, which includes instances of concealed identity, spying, personation, secret marriage, drugs, attempted and real suicide, plus murder.
Names and identities
From its very start the novel is concerned with the relationship between names and personal identity. For instance the principal character is called Lydia Gwilt – a woman who weaves herself and her influence around several of the other characters in the novel.
But Lydia Gwilt is not her real name. Her original or true name is not known, She is a foundling and even she does not know what her name should be (Book the Third, Chapter XV). Her name has been attached to her by others.
As a result of her first marriage she becomes Mrs Waldron, and then through her second marriage Mrs Manuel – though we know that this marriage is illegitimate, because Manuel is still married to someone else at the time.
She then contracts a bigamous marriage with Midwinter – an illegal union because Manuel is still alive. And Ozias Midwinter isn't his real name either. He is actually called Allan Armadale, a name which Lydia Gwilt wants to acquire so as to pose as the widow of the 'other' Allan Armadale after murdering him and claiming his money.
It is not surprising that this potpourri of names, identities, and relationships eventually leads her into states of illegality, then later into psychological breakdown and eventually to her suicide.
The villainous character
Sensation novels often have dubious, devious, villainous, or criminal characters – but Lydia Gwilt pushes the boundaries of credibility. She has a completely irregular provenance – with a past history in which she has manipulated men, and been ill-treated by them in her turn. She uses her sexual allure to work on the elderly and decrepit servant Bashwood, who is so besotted with her that even after discovering he is being manipulated, he ends up in a semi-demented state, imagining that he is about to marry her.
Yet Bashwood might be considered to have a lucky escape, because there is evidence that she murdered her first husband Waldron. She makes two attempts to poison Armadale in pursuit of his wealth; she is a serial bigamist; she is involved in deception and fraud; she is a drug user. addicted to laudanum; she is hostile and vindictive to anybody who stands in the way of her plans; and she both attempts and eventually commits suicide.
The one feature that redeems this stereotyped catalogue of villainy is that towards the end of the novel Wilkie Collins gives her a streak of sympathy and appreciation towards Midwinter, whom she perceives as a fellow outsider. She has married him in order to share his real name (Allan Armadale) but gradually she dimly realises that she loves him for his own sake.
Weaknesses
The enormous length and complexity of the plot makes unusually severe demands on the reader. This is a novel in which there are no fewer than four characters with the same name – Allan Armadale – and the relationship between them requires prodigious feats of memory on the part of the reader, because the connections are briefly adumbrated in the first pages of the novel then hardly mentioned again throughout the eight hundred pages that follow.
There are also several strands in the plot which first appear significant, but are then dropped or disappear without trace. For instance, the relationships of the 'original' Allan Armadale and the person who takes up his name (Fergus Ingelby) is lost in obscurity after the Prologue to the main story. The same is true of their marriages and their sons – also called Allan Armadale.
At the other end of the novel, Armadale's relationship with Eleanor Milroy appears to be woven into the over-dramatic finale when she is transported to the Sanatorium, in a state of mental shock following the (false) news of Armadale's death. The highly over-wrought sequence of attempted murder and switched rooms involving Armadale, Midwinter, and Lydia Gwilt brings the novel to its climax – but Wilkie Collins appears to forget that the other member of this quartet is also on the premises. Eleanor is simply not mentioned again until she makes a brief reappearance in the Epilogue as Armadale's wife.
It also has to be said that the latter part of the novel collapses into Grand Guignol melodrama when all four principal characters are locked overnight into a mental asylum. Lydia Gwilt as the arch villain is plotting to murder Allan Armadale with poisonous gas, but Midwinter and Armadale have switched bedrooms. Lydia therefore fails in her quest and ends up (almost) poisoning her own husband – before killing herself.
Wilkie Collins also has the annoying habit of relating some scenes twice. He will deliver a sequence of events as a (very intrusive) third person narrator – but then have his characters go over the same events again, either in discussion or as explanation to each other. This might be a deliberate element of the serial form – reminding readers of 'the story so far' – but it is irritating for readers to be told something they already know.
These diffuse strands of plotting might be useful to sustain readers' interest during their consumption of a serialized fiction – but they do not help to create the tight cohesion and thematic density that we associate with an intellectually satisfying novel. However, it is worth noting that the two cultural forms of the literary and the popular serial novel were coexistent at that time.
---
Armadale – study resources

Armadale – Oxford Classics – Amazon UK

Armadale – Oxford Classics – Amazon US

Armadale – Independent Publishers – Amazon UK

Armadale – Independent Publishers – Amazon US

The Complete Works of Wilkie Collins – Kindle eBook

Armadale – eBook formats at Gutenberg
---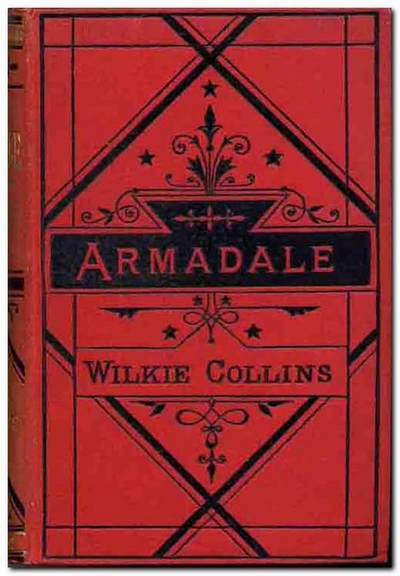 1879 edition
---
Armadale – plot summary
Prologue
I. A Scottish solicitor Alexander Neal and the paralyzed Englishman Allan Armadale arrive in the German spa town of Wildbad.
II. The local doctor asks a reluctant Neal to take English dictation from the dying Armadale, who will not trust the job to his beautiful wife.
III. Neal reads out the start of a long letter Armadale is writing as a confession to his son. His original name is Allan Wrentmore and he has inherited a fortune at the expense of Allan Armadale – whose name he must take. The original Armadale steals his bride-to-be but then is drowned during a storm at sea. Wrentmore reveals that he locked Armadale in his cabin as the ship was sinking.
The Wrentmore Armadale marries in Trinidad then goes to Europe where he is dying, comforted only by his son who is also called Allan Armadale. The confession is rounded off as a warning to his son to avoid any contact with other people in the drama (particularly the original Allan Armadale's son) and is posted off to solicitors in London.
Part the First
I. Twenty years later the Reverend Brock looks back as tutor to the young Allan Armadale and would-be suitor to Mrs Armadale. When an advert appears in the Times seeking information on Allan Armadale she quashes all interest in it.
When brain-fevered outcast Ozias Midwinter appears, Allan Armadale assumes complete financial responsibility for him. Mrs Armadale is suspicious of the outcast and thinks he might be the 'real' Allan Armadale in disguise. She is also visited by her former young maid (Lydia Gwilt) whom she regards as pernicious. Shortly afterwards she falls ill and dies.
Another newspaper advert appears from the London lawyers requesting information on Armadale. Brock and Armadale go to Paris where they learn that as a result of three family deaths, Armadale has inherited his wealthy uncle's estate in Norfolk.
A mysterious young woman (Lydia Gwilt) attempts suicide but is rescued. Armadale takes Brock and Midwinter on a cruise to the Isle of Man where Midwinter reveals to Brock his true identity as Allan Armadale.
II. Midwinter relates how his mother married Alexander Neal who beat him, and how he escaped with the rogue gypsy who gave him his odd name. He lives as a vagabond, ends up in jail, then spends two years working for a miserly bookseller. He responds to the Times advert and receives a salary from his share of the inheritance. Because of the kindness Armadale has shown to him, he decides to stick to the assumed name of Midwinter and ignore his father's injunction to avoid Armadale. Midwinter burns his father's confessional warning letter.
III. Midwinter and Armadale spend a desultory day on the Isle of Man where they meet the local doctor Mr Hawberry and go for a midnight sail in his boat. They end up stranded on the wreck of La Grace de Dieu, the vessel on which the original murder took place.
IV. They find themselves outside the cabin where Midwinter's father killed Armadale's father. Armadale is unaware of its history. Midwinter is tempted to reveal the truth, but feels deeply conflicted. Armadale has a dream whilst on the wreck , and later they are rescued by Hawberry. 
V. Armadale's strange dream is interpreted by Hawberry using rational arguments from the previous day's events. Midwinter remains convinced that the dream is prophetic.
Book the Second
I. Midwinter is worried about being made steward at Thorpe-Ambrose estate. The procuress Mrs Oldershaw advises Lydia Gwilt to pursue Armadale as revenge for her ill-treatment by his mother. Major Milroy takes up tenancy of the estate cottage with his invalid wife and young daughter. Lydia plans to apply for a job as their governess.
II. Armadale inspects his new estate. He meets Miss Milroy and instantly falls in love with her. He meets her father, who advertises for a governess.
III. Midwinter finds Armadale's mother's books in the room featured in Armadale's dream. Armadale has insulted the old family solicitor and is approached by a new partnership in the town. The local gentry regard him unfavourably.
IV. Midwinter encounters grievance at the Milroy cottage. The locals do not like Armadale's radical new attitudes. Armadale flirts with Miss Milroy and starts to entertain ideas of marriage.
V. Mrs Oldershaw tries to baffle Reverend Brock. Lydia Gwilt is in hiding, but is determined to marry Allan Armadale as an act of revenge. Mrs Oldershaw changes her name to Manderville and employs a maid to act as a decoy for Lydia.
VI. Armadale and an ebullient Midwinter visit the Milroy cottage. Midwinter creates an embarrassing scene, and Major Milroy exhibits his animated clock.
VII. Allan invites Eleanor to a picnic. Bashwood recounts to Midwinter the story of his disastrous family life. Lydia Gwilt is invited to the picnic when she arrives.
VIII. There is a boating party excursion onto the Norfolk Broads, with courtship and comic interludes. 
IX. The party returns to Thorpe-Ambrose, but Armadale stays behind to meet Midwinter, where he has a re-enactment of his dream when he encounters Lydia Gwilt.
X. Midwinter fears that Armadale is fulfilling his own prophetic dream. Lydia Gwilt's arrival immediately upsets the Milroys. Midwinter checks on Lydia, but uses a flawed description of her supplied by Brock. Because of this he abandons his superstitious belief in the prophetic dream.
XI. Lydia Gwilt is in danger of being exposed, and she rightly believes that Mrs Milroy suspects her. She reports that Midwinter is in love with her. Mrs Oldershaw deploys her decoy maid to deceive Brock.
XII. Midwinter has banished all his earlier qualms about the dream and installed Armadale in his mother's old room. Armadale announces to a mortified Midwinter that he is in love with Lydia Gwilt.
XIII. Armadale and Midwinter discuss Lydia. Armadale knows very little about her background. He wants Midwinter's help, but because he too is in love with Lydia, Midwinter leaves Thorpe-Ambrose.
Book the Third
I. The invalid Mrs Milroy is fuelled by a jealous suspicion towards Lydia. She opens her mail and thinks she is trying to seduce the Major.
II. Mrs Milroy shares her hatred of Lydia with her daughter Eleanor, who reveals to her the connection between Lydia and Armadale.
III. Mrs. Milroy plots to send Armadale to London in search of further information on Lydia and her background which they both want.
IV. Armadale and lawyer Pedgift Junior go to London in search of Mrs Manderville, not realising that her real name is Oldershaw.
V. Armadale and Pedgift Junior trace the connection with Lydia Gwilt to a brothel in Pimlico. Armadale abandons the search but is pestered for evidence from the Milroys. The scandal of a challenge to Lydia Gwilt's virtue without any evidence is made public in Thorpe-Ambrose.
VI. Pedgift Senior advises Armadale against Lydia Gwilt. She makes two attempts to visit Allan, but Pedgift insists that she is refused. Armadale is very reluctant to pursue further enquiries.
VII. Pedgift then reveals that Lydia has threatened Eleanor Milroy, and Armadale is persuaded to let Pedgift set a spy on tracing Lydia's movements.
VII. Lydia knows she is being followed and she employs a love-smitten Bashwood as an informer. She meets Midwinter on his return to Thorpe-Ambrose and lies to him that she has been misunderstood.
VIII. Armadale and Midwinter argue about Lydia Gwilt – and in doing so re-enact a scene from the prophetic dream.
IX. Bashwood reports to Lydia on the argument and on Armadale's refusal to accept Pedgift's advice. Midwinter vows to leave Thorpe-Ambrose forever – but he writes to Lydia Gwilt and falls into her seductive trap by revealing his true identity.
X. Lydia Gwilt's diary summarises the plot as she records Midwinter's confession. She despises Allan but is attracted to Midwinter as a fellow outsider. She eavesdrops on Armadale's marriage proposal to Eleanor and receives letters from Midwinter. She devises a plan of a secret marriage to Midwinter after which she will claim to be the widow of Allan Armadale following his death.
XI. Armadale and Eleanor discuss the legal requirements for a marriage. He decides to go to London to seek advice.
XII. Armadale and Lydia Gwilt leave for London on the same train – observed by the jealous Bashwood, who vows to seek revenge on Lydia Gwilt.
XIII. Bashwood applies to Pedgift, but gets little help. He then contacts his son, the private detective whom Mrs Oldershaw has also consulted.
XIV. Lydia checks the legalities of marrying Midwinter in her maiden name of Gwilt, then invents a false biography for herself. Major Milroy imposes a six month delay on Eleanor's marriage to Armadale. Lydia notices she is being followed by spies, and she realises that she is in love with Midwinter.
XV. Bashwood Junior reports to his father on Lydia's background. She was married to Waldron who died of poison. She was found guilty, then acquitted, then imprisoned for theft. Next she married Manuel, who absconded with all her money. The Bashwoods try to catch up with her but they are too late. Lydia marries Midwinter.
Book the Fourth
I. Two months later in Naples Lydia feels that her marriage has already gone sour. Midwinter is working as a journalist. They are joined by Armadale, who annoys her with his enthusiasm for a new yacht and his concern for Eleanor.
II. Lydia sees her former husband Manuel at the opera. She tries to poison Armadale, but he rejects the drink because she has added brandy, to which he is allergic. Manuel tries to blackmail Lydia, but she fobs him off with a scheme to murder Armadale for his money. Armadale sets out on his yacht, but Midwinter and Lydia do not go with him.
III. A month later Lydia is in London and Midwinter is in Turin. Armadale's yacht sinks in a storm at sea. Lydia is worried about the handwriting on her marriage certificate.
She turns against Midwinter and seeks help from the abortionist 'Doctor' Downward. He agrees to be a fake witness for an exorbitant fee. She is visited by Bashwood Senior whom she sends back to Thorpe-Ambrose as a spy. Bashwood reappears with the news that Armadale is alive. Downward constructs a plan to lure Armadale into the Sanatorium he has bought.
Book the Last
I. Downward tries to persuade Lydia to enter the Sanatorium as a patient. She plays for time. Midwinter arrives in London unexpectedly.
II. Bashwood encounters Midwinter at the railway station and causes him some alarm. Midwinter follows Bashwood to Lydia and confronts her. When she reveals that she is not his legal wife, he collapses.
III. Lydia escapes into the Sanatorium. Downward shows visitors round the establishment and talks to Lydia about poisons. Midwinter meets Armadale at the station. They go to the Sanatorium where Eleanor is recovering from the shock of the news of Armadale's death. Lydia plans to poison Armadale, who switches rooms with Midwinter. Lydia discovers the switch, saves Midwinter, then kills herself instead.
Epilogue
I. Nobody is found guilty, although Pedgift senior suspects the bogus doctor. Bashwood goes insane, and imagines he is about to be married to Lydia.
II. Midwinter is finally reconciled with Armadale who marries Eleanor. Midwinter also accepts Reverend Brock's quasi religious views on the question of Destiny and free will.
---
Armadale – principal characters
| | |
| --- | --- |
| Allan Armadale | Englishman dying with paralysis (real name Wrentmore) |
| Allan Armadale | his son, |
| Mrs Armadale | his mixed-race beautiful wife |
| Alexander Neal | a dour Scottish solicitor |
| Fergus Ingelby | the original Allan Armadale |
| Mr Hawberry | an Isle of Man doctor |
| Rev Decimus Brock | young Armadale's tutor |
| Lydia Gwilt | an attractive foundling, governess, and poisoner |
| Maria Oldershaw | Lydia's confidante, a procuress |
| Major David Milroy | Armadale's cottage tenant |
| Anne Milroy | his invalid wife |
| Eleanor Milroy | his pretty young daughter |
| Felix Bashwood | an elderly love-struck clerk |
| Mr Pedgift | a clever elderly lawyer |
| Augustus Pedgift | his son, a bon-viveur |
---
Armadale – further reading
William M. Clarke, The Secret Life of Wilkie Collins, London: Ivan R. Dee, 1988.
Tamar Heller, Dead Secrets: Wilkie Collins and the Female Gothic, New Haven: Yale University Press, 1992.
Winifred Hughes, The Maniac in the Cellar: Sensation Novels of the 1860s, Princeton: Princeton University Press, 2014.
Sue Lonoff, Wilkie Collins and his Victorian Readers: A Study in the Rhetoric of Authorship, New York: AMS Press, 1982.
Catherine Peters, The King of Inventors: A Life of Wilkie Collins, Princeton: Princeton University Press, 2014.
Walter C. Phillips, Dickens, Reade, and Collins: Sensation Novelists, New York: Library of Congress, 1919.
Lynn Pykett, Wilkie Collins: New Casebooks, London: Palgrave-Macmillan, 1998.
Nicholas Rance, Wilkie Collins and Other Sensation Novelists: Walking the Moral Hospital, London: Palgrave-Macmillan, 1991.
© Roy Johnson 2017
---
More on Wilkie Collins
More on the novella
More on literary studies
More on short stories
---