biographical portraits of Bloomsbury Group principals
It's easy to make fun of the Bloomsbury Group, because they were a privileged upper-class clique; they were often snobbish; and they created personal relationships of extraordinary complexity. But Leon Edel takes a balanced and largely sympathetic view which helps to bring out their positives:
they were a group of rational and liberal individuals with an arduous work ethic and an aristocratic ideal…They had a passion for art; they liked the fullness of life…They wrote. They painted. They decorated. They built furniture. They sat on national committees. They achieved a large fame…They criticized the Establishment but, unlike most critics, they worked to improve it. They hated war. Some refused to fight; others believed they had to see the 1914-18 conflict through to the end. All actively worked for peace.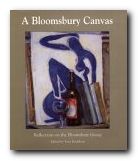 His account follows the unusual structure of starting with a portrait of one character, then passing on to another when the two meet. For instance, at Trinity College Cambridge, Leonard Woolf (stoic, disciplined, intellectual) meets Clive Bell (lightweight, bon viveur, artistic dreamer) and before long they both form friendships with Lytton Strachey (clever, lofty, neurasthenic).
Shortly afterwards Thoby Stephen, John Maynard Keynes, and Sidney Saxon-Turner join them as members of the Apostles, and all of them come under the influence of G.E.Moore, who published his influential Principia Ethica in 1903.
Edel's account takes very much a psychological view of these characters – and yet it is from a distance. There is very little personal detail. You would never know from his opening chapters that Strachey and Keynes were lovers for instance.
Once the Cambridge connection is made, other characters are introduced: the charming Desmond MacCarthy, and Leslie Stephen, visiting his son Thoby in his own alma mater. He brings with him his two daughters Vanessa and Virginia, up for the May Ball. It is like the plot of a novel unfolding.
The individual studies are not biographical in the conventional sense. There is no attempt to document historical facts. Instead, they are impressionistic, psychological, and unashamedly subjective – though clearly based on detailed knowledge. This method has some interesting results when dealing with such topics as the sexual rivalry between the Stephen sisters, or meditating on the imagery of mirrors and death in Virginia's writing.
After they all left Cambridge, Thoby Stephen began the Thursday Club in Gordon Square at which members were invited to discuss topic such as The Good, The Beautiful and Truth. Then Vanessa (less intellectual) established the Friday Club where the subject was Art – preferably modern.
Much of the rest of the story is reasonably well known. When Vanessa marries Clive Bell, Virginia and her younger brother Adrian set up a separate home in Fitzroy Square. Then Vanessa takes up with Roger Fry as a lover – only to replace him with Duncan Grant soon afterwards.
Edel covers the strange but ultimately successful marriage of Virginia and Leonard Woolf (though omitting to mention that Vita Sackville-West was for some time her lover); the impressive achievement of Lytton Strachey's Eminent Victorians; and Maynard Keynes' work at the Treasury and his role in the Versailles Treaty, which culminated in his resignation and the writing of Economic Consequences of the Peace.
His main focus is on the period 1900 to the 1920s – for that is when he sees the essential spirit of the group forming and having its strongest influence. By the 1930s a change of zeitgeist meant the modernist baton was passed on to a younger generation – though many Bloomsbury members (Duncan Grant and Leonard Woolf, for instance) carried on working into the 1960s and 1970s.
So despite its psychological approach, this is not a volume for gossip and tittle-tattle. For that you will need to consult other memoirs and biographies. But what Edel brings to this group portrait are his biographical skills, his enormous literary erudition, and an imaginative respect for his subjects.
© Roy Johnson 2000
---
Leon Edel, Bloomsbury: A House of Lions, London: Penguin, 1988, pp.288, ISBN 0140580247
---
More on biography
More on the Bloomsbury Group
Twentieth century literature
---