memoirs and portraits of Bloomsberries from an insider
Quentin Bell is the son of Clive Bell and Vanessa Bell, the nephew of Virginia Woof, and the friend of many of the major figures in the Bloomsbury Group. Bloomsbury Recalled is his scrapbook of reminiscences focused on some of its major figures, plus one or two minor characters many people will not have heard about. The first part of his memoir concerns his parents. He treads carefully between respect for their individuality and an objective account of their behaviour.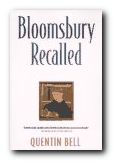 This even stretches to his description of a turning point in family life when his mother, still married to his father Clive, but entangled in a romantic liaison with the artist Roger Fry, realises that she is actually in love with the homosexual Duncan Grant, with whom she spent the rest of her life. This seems to epitomise Bloomsbury lifestyles without a doubt.
He also deals in separate chapters with Duncan Grant and his proclivity for rough trade; David Garnett and his relationship with Quentin Bell's own 'sister' Angelica – who was actually the daughter of Duncan Grant; John Maynard Keynes who switched from men to a Russian ballerina and whilst being an important economist also became a farmer and landholder, seeking to create a feudal aristocratic lineage out of nothing.
There are also some surprising details – Leonard Woolf teaching his visitors to play bowls and keeping a pet monkey; Desmond MacCarthy, like something out of a novel by George Meredith, a man with eternal promise who did not deliver; E.M.Forster setting his trousers on fire during a visit to the Woolfs at Monks House; and Matisse boring everybody rigid with his vanity and egoism on a visit to the Stracheys. He also supplies brief glimpses of minor figures such as the art critic and Soviet spy Anthony Blunt, and Ethyl Smyth, the pipe-smoking lesbian composer who fell in love with Virginia Woolf.
He writes with a rather touchingly old-fashioned naivety ('Virginia broke her fast in bed') and he certainly reaches into a rich lexicon of outdated terms ('sodomy', 'catamite', 'buggery', 'pederast') to describe the activities of Lytton Strachey and Maynard Keynes. He's also good at bringing out contradictions which might surprise some people today – examples of great family wealth and yet Spartan living conditions, and upper class connections and yet socialist sympathies.
Don't expect any rigour or consistency in chronology, place, or even subject. These are just personal memoirs built around themes – rather like an old jazz pianist sitting down and tinkling out variations on some of his favourite songs. He doesn't even bother describing scandals if he has written about them elsewhere.
There are no scalding revelations here, but anyone who has the slightest interest in the Bloomsbury Group and its members will be grateful for a first-hand account which captures the flavours and textures of a bygone era which nevertheless has much still to teach us about the politics and the aesthetics of daily life and personal relationships.
© Roy Johnson 2000

Buy the book at Amazon UK

Buy the book at Amazon US
---
Quentin Bell, Bloomsbury Recalled, New York: Columbia University Press, 1995, pp.234, ISBN 0231105657
---
More on biography
More on the Bloomsbury Group
Twentieth century literature
---