business strategies and the new technology
This book seeks to explain how technological developments are impacting in the world of eCommerce. We've all heard about the IT revolution, but where is it actually having an effect? Evans and Wurster start with the cautionary tale of Encyclopedia Britannica, whose business model was wrong-footed when Encarta was launched on CD. A strategy almost two hundred years old was overturned in the space of five years. You can now buy Britannica on disk for the price of a paperback book. The lesson is that it's suicide to rest on your laurels when faced with new technology. Their second major point is what they call the playoff between 'richness' and 'reach'.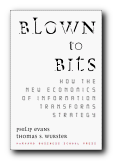 You can either deliver information-rich data to a few people, or lightweight general ads to many. These appear to be mutually exclusive strategies – though Amazon manage to do both at the same time. They are essentially IT optimists, because they believe that access to information will promote more efficient competition. "the emergence of universal, open standards will … accelerate the demise of hierarchical structures and their proprietary information systems". Whether this is true or not is still a matter for e-Commerce conjecture.
In the era of the IT revolution, the knowledge we need to enrich information is available to us all – free of charge. Therefore, as they argue, "Shifting the trade-off between richness and reach melts the informational glue that bonds business relationships".
As you can see, you have to be prepared for a mode of expression which combines abstractions and the jargon of business and management studies:
This shaped the horizontally integrated multidivisional corporation, held together by a logic that transcended the business unit.
I've read that statement several times, but I still don't know what it means. It's hard to stick with this kind of opaque and abstract language. But if you can, it's worth it – because they do deal with important general principles – though it's a great relief when they occasionally come to discuss a practical example.
They look at newspapers and banking as examples of business models which are now vulnerable to the new technology. For instance, those people who use personal banking systems are small in percentage terms, but they are the richest, and account for 75% of banking profits. What does this mean? It means that banking is vulnerable to changes brought about by software engineering.
They explore that buzzword of the new e-Commerce – 'disintermediation' (the removal of the middle man) using the example of online shopping. Yet no sooner has the middleman gone than he comes back again as the 'navigator' – that is, somebody who acts as a guide and as an advisor amidst the plethora of choices available to the consumer.
The general lesson boils down to this. Access to information and the transforming power of new technology puts traditional business methods under threat: yet at the same time it opens up new possibilities for those wishing to take them.
This book has become a set text on an Open University technology course that I teach. The students find it hard going, but all of them in my group have grasped the ideas behind it – and finished the course with successful Web essays outlining eCommerce plans.
© Roy Johnson 2000

  Buy the book at Amazon UK

  Buy the book at Amazon US
---
Philip Evans and Thomas S. Wurster, Blown to Bits: How the New Economics of Information Transforms Strategy, Boston (MA): Harvard Business School Press, 2000, pp.259, ISBN: 087584877X
---
More on eCommerce
More on media
More on publishing
More on technology
---