Virginia Woolf's previously unpublished early works
This is an unusually exciting event for Woolf fans – the first publication of an undiscovered notebook which had been lost for seventy years. Carlyle's House was written in 1909 when Virginia Woolf was living with her brother Adrian in Fitzroy Square. She was struggling with her first Novel, The Voyage Out and wondering if she would ever be married. It was discovered only a couple of years ago, in Birmingham. The contents of the notebook (which she made herself, by hand) is a series of seven portraits written, as she says of them herself as a sort of artist's notebook: "the only use of this book is that it shall serve for a sketch book; as an artist fills his pages with scraps and fragments, studies of drapery – legs, arms & noses … so I take up my pen & trace here whatever shapes I happen to have in my head … It is an exercise – training for eye & hand".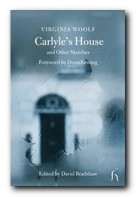 They are an attempt to capture people visually, socially, and even morally. She is trying out the literary techniques which were later to make her famous – capturing the sense of life by a combination of shrewd observation, making imaginative connections between disparate subjects, and sliding effortlessly into philosophic reflections on the topic in question.
Some of her observations and commentary are amazingly snooty and condescending. Speaking of the children of Sir George Darwin who she visits in their campus home in Cambridge, she observes:
Margaret is much less formed; but has the same determination to find out the truth for herself, and the same lack of any fine power of discrimination. They enjoy things very much, and fancy that this is due to their superior taste; fancy that in riding about the streets of Cambridge they are building up a theory of life.
Even people's furniture and choice of paintings and home decor is subject to a scrutiny so close that it becomes like a moral measuring tape:
In the drawing room, the parents' room, there are prints from Holbein drawings, bad portraits of children, indiscriminate rugs, chairs, Venetian glass, Japanese embroideries: the effect is of subdued colour, and incoherence; there is no regular scheme. In short the room is dull.
As Christopher Reed argues in his authoritative study of this subject, Bloomsbury Rooms, the aesthetics of interior design and furnishing held amongst the Bloomsberries was shot through with a political ideology.
Woolf idolatrists will have to swallow hard to stomach the disgusting anti-semitism of her revealingly entitled piece 'The Jews' – for it is in fact a sketch of a single person, Mrs Loeb, who she had visited at Lancaster Gate.
There's a commendably thorough introduction by Woolf specialist David Bradshaw, full explanatory footnotes, and a foreward by Doris Lessing which is so poorly written that it throws the style of the young Virginia Woolf into high relief. Bradshaw also offers a commentary on each sketch, setting it in context and bringing together all the observations from wide-ranging Woolf scholarship which throw light on these episodes.
This might be the work of the young and untried Woolf, and it might reveal the less-developed and even unappealing side of her character. But we know that she revised many of these attitudes and beliefs in later life. This is a brief collection which enthusiasts will not want to miss.
© Roy Johnson 2005

Buy the book at Amazon UK

Buy the book at Amazon US
---
Virginia Woolf, Carlyle's House and Other Sketches London: Hesperus, 2003, pp.88, ISBN: 1843910551
---
More on Virginia Woolf
Virginia Woolf – web links
Virginia Woolf – greatest works
Virginia Woolf – criticism
More on the Bloomsbury Group
---