Art, love, and Bohemian life in Bloomsbury
Dora Carrington was a painter, an early feminist, and a figure who flits in and out of the lives of several members of the Bloomsbury Group, of which she was a significant member. This is the (so far) definitive biography of her troubled existence, which covers her day-to-day life in great detail – much of it based upon her voluminous correspondence. She grew up in a stiflingly conventional home in Bedford, loving her father and hating her mother.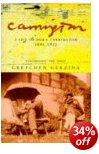 With a talent for art, she was glad to get away from home at seventeen and spread her wings at the Slade, living in Gordon Square, right in the heart of Bloomsbury. Her style of painting and drawing was firmly traditional, and it fitted with the aesthetic of the Slade.
She was unaffected by the craze for Post-Impressionism which followed Roger Fry's famous 1910 exhibition at the Grafton Galleries which Virginia Woolf claimed changed human nature that year. She cut her hair short in a style which became famous ('crop head') and two of her fellow students, 'Chips' Nevinson and Mark Gertler, promptly fell in love with her. This resulted in the first of her many love triangles, plus a form of unhappiness for all concerned. Although she behaved in a provocative manner, she refused to choose between them, or to have a sexual relationship with either of them.
In 1914 she met D.H. Lawrence and David Garnett, joined Roger Fry's Omega Workshop, and was moderately successful in her decorative art work. Then in 1915 she spent a weekend amongst the Bloomsbury Group at Asheham which was to change her life. Lytton Strachey (who was in love with Mark Gertler) made a sexual pass at her, and she immediately fell in love with him.
Although she had kept Gertler at bay for five years, she gave herself to Strachey from the outset – then ended up having a sexual relationship with both men at the same time, even though Strachey was really a homosexual. [Remember – this is Bloomsbury.] Eventually she set up home with Strachey at Tidmarch Mill House and found her first sustained period of happiness.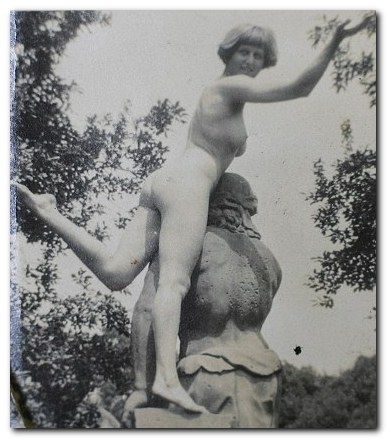 Yes – that's Dora Carrington
However, with a twist which typifies relationships in the Bloomsbury Group, they moved Ralph Partridge in to live with them. Carrington shared his bed, and Strachey fell in love with him. She then moved to live with Partridge in Gordon Square when he was given a job at the Hogarth Press, and then married him in 1921, even though she claimed she was still in love with Strachey – who with characteristic generosity paid for their honeymoon, and even joined them on it.
Not long afterwards she started an affair with her husband's best friend, Gerald Brenan – around the same time that Partridge moved his new lover Valentine (actually Gladys) Dobree into their family home at Tidmarsh.
It is commonly assumed that Carrington sacrificed her artistic possibilities to the effort of looking after Strachey and Partridge, but Gretchen Gerzina argues that on the contrary, she was at her most productive when her domestic and personal life were settled and untroubled by romantic entanglements.
But the level of emotional masochism in her life is remarkable. Whilst her husband took his new lover Frances Marshall on holiday to Paris, he forbade her to even write to Gerald Brenan. She distracted herself from this humiliating position by starting an affair with Henrietta Bingham, the daughter of the American ambassador, a foray into Sapphism which made her regret she hadn't started earlier. And this didn't stop her sleeping with Gerald Brenan as well – so by this time she had certainly got rid of her earlier sexual reluctance.
Almost all the evidence for this personal narrative comes from letters. These people were super-communicative on paper. But the correspondence needs to be carefully interpreted – because they often wrote knowing that third parties might read what they said. Partridge not only banned Carrington from writing to Brenan, but insisted on reading all her correspondence. So she developed the strategy of inserting personal messages into secret addenda – which were nevertheless sometimes intercepted. And she was much given to reading other people's private mail too.
As the menage she helped to create with Strachey and Partridge began to fall apart, she consoled herself with Bernard (Beakus) Penrose [brother of Sir Roland] in one last romance. But it was Strachey who remained her most lasting affection, and when he died (of undiagnosed stomach cancer) in 1932 she felt that she could not live without him. So she shot herself – aged just thirty-nine.
© Roy Johnnson 2012

Buy the book at Amazon UK

Buy the book at Amazon US
---
Gretchen Gerzina, Carrington: A Life of Dora Carrington 1893-1932, London: Pimlico, 1995, pp.342, ISBN 0712674209
---
More on art
More on biography
More on the Bloomsbury Group
Twentieth century literature
---