art critic and Bloomsbury socialite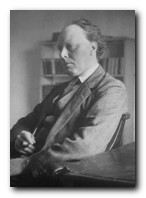 Clive Bell (1881-1964) was raised at Cleve House in Seend, Wiltshire. His father William Heward Bell was a rich industrialist who had made his money in coal mining at Merthry Tydfil. He fashioned himself Squire and re-built part of the house in the style of a Tudor mansion, adding a family crest. Clive was educated at Marlborough (a 'public' school – that is, private), then at Trinity College Cambridge. It was there that he met Thoby Stephen, Lytton Strachey, John Maynard Keynes, and Leonard Woolf. After university, he went to study in Paris, originally intending to do historical research. He was very influenced by the art he saw there and switched his studies to painting.
Back in London, when his friend Thoby Stephen invited fellow students home to an evening discussion group in Gordon Square, Bloomsbury, Clive met Thoby's sisters Vanessa Stephen and Virginia Stephen. It was there that the network of friendships and liaisons was formed which became known as the Bloomsbury Group.
He became romantically attracted to Vanessa Stephen, but she turned down his first two proposals of marriage. However, in 1907, following the deaths of both her father and brother Thoby, she accepted him. They had two sons, Julian and Quentin, both of whom went on to become writers.
In 1909 he met Roger Fry by accident on a railway journey and became involved in the promotion of modern art which culminated in the famous Post-Impressionist Exhibition in 1910. Fry became a close friend of the family, and in 1911 went on holiday with them to Greece and Turkey. When Vanessa became ill, it was Roger Fry who nursed her back to health, and the pair began an affair, leaving Clive Bell to turn his romantic attentions back onto an old flame, Mary Hutchinson (who also had affairs with both Aldous Huxley and his wife Maria).
He published his first major work, Art, in 1914. In this he set out his idea of 'significant form', which is a notion that foregrounds the importance of form in painting over its overt subject matter. Like almost all other members of the Bloomsbury Group, he was opposed to the first world war, and in 1915 published a controversial pamphlet, Peace at Once, calling for a negotiated settlement to the conflict. This was considered an outrageous suggestion by the establishment of the time, and his essay was burned by the Public Hangman.
His relationship with Vanessa had virtually come to an end, although the couple remained on friendly terms, and Clive was a regular visitor to the family home at Charleston in Sussex. Vanessa had in fact moved on from Roger Fry to Duncan Grant, and even though he was an active homosexual, they spent virtually the rest of their lives together.
However, Vanessa had another child, Angelica. The father was Duncan Grant, but for the sake of propriety, she was given Clive's name and passed off for nearly twenty years as his daughter. This deception and its dramatic consequences are described in Angelica's memoir Deceived with Kindness.
His friend from Cambridge, Lytton Strachey described the various facets of Bell's personality:
His character has several layers, but it is difficult to say which is the fond. There is the country gentleman layer which makes him retire into the depths of Wiltshire to shoot partridges. There is the Paris decadent layer, which takes him to the quartier latin where he discusses painting and vice with American artists and French models. There is the eighteenth-century layer which adores Thoby Stephen. There is the layer of innocence which adores Thoby's sister. There is the layer of prostitution, which shows itself in an amazing head of crimped straw-coloured hair. And there is the layer of stupidity which runs transversely through all the other layers.
---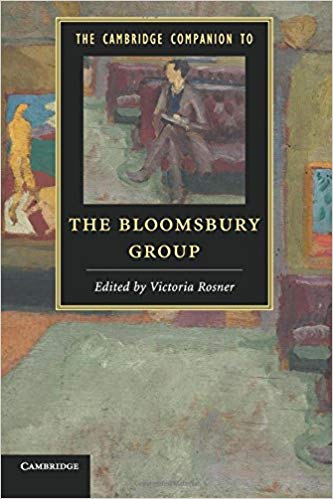 ---
Bloomsbury Group – web links

Hogarth Press first editions
Annotated gallery of original first edition book jacket covers from the Hogarth Press, featuring designs by Vanessa Bell, Roger Fry, and others.

The Omega Workshops
A brief history of Roger Fry's experimental Omega Workshops, which had a lasting influence on interior design in post First World War Britain.

The Bloomsbury Group and War
An essay on the largely pacifist and internationalist stance taken by Bloomsbury Group members towards the First World War.

Tate Gallery Archive Journeys: Bloomsbury
Mini web site featuring photos, paintings, a timeline, sub-sections on the Omega Workshops, Roger Fry, and Duncan Grant, and biographical notes.

Bloomsbury: Books, Art and Design
Exhibition of paintings, designs, and ceramics at Toronto University featuring Hogarth Press, Vanessa Bell, Dora Carrington, Quentin Bell, and Stephen Tomlin.

Blogging Woolf
A rich enthusiast site featuring news of events, exhibitions, new book reviews, relevant links, study resources, and anything related to Bloomsbury and Virginia Woolf

Hyper-Concordance to Virginia Woolf
Search the texts of all Woolf's major works, and track down phrases, quotes, and even individual words in their original context.

A Mrs Dalloway Walk in London
An annotated description of Clarissa Dalloway's walk from Westminster to Regent's Park, with historical updates and a bibliography.

Women's History Walk in Bloomsbury
Annotated tour of literary and political homes in Bloomsbury, including Gordon Square, University College, Bedford Square, Doughty Street, and Tavistock Square.

Virginia Woolf Society of Great Britain
News of events, regular bulletins, study materials, publications, and related links. Largely the work of Virginia Woolf specialist Stuart N. Clarke.

BBC Audio Essay – A Eulogy to Words
A charming sound recording of a BBC radio talk broadcast in 1937 – accompanied by a slideshow of photographs of Virginia Woolf.

A Family Photograph Albumn
Leslie Stephens' collection of family photographs which became known as the Mausoleum Book, collected at Smith College – Massachusetts.

Bloomsbury at Duke University
A collection of book jacket covers, Fry's Twelve Woodcuts, Strachey's 'Elizabeth and Essex'.
© Roy Johnson 2000-2014
---
More on biography
More on the Bloomsbury Group
Twentieth century literature
---