a handbook for editors, authors, and publishers
Judith Butcher's Copy Editing is now firmly established as the UK classic reference guide for editors and others involved in preparing text for publication. It is written from the perspective of a professional copy-editor, and covers just about everything you would need to know in preparing any sort of text for publication. It deals with all the details of preparing a typescript for setting, house styles and consistency, reading and correcting proofs, and how to present indexes and bibliographies.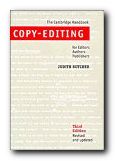 Every suggestion is scrupulously illustrated without being pedantic, and there is a very helpful degree of cross-referencing. I originally bought my own copy of this book to sort out the finer points of bibliographic referencing for academic writing – and I've been using it regularly ever since. The book itself is almost a tutorial on the very principles it illustrates, and it is a very handsomely produced and elegantly designed publication. You will learn a lot on the presentation of text just from turning the pages.
It contains explanations of every part of a book – from details such as preliminary matter, frontispiece, title page, and content, through to lists of tables and illustrations, acknowledgements, bibliographies, notes, and indexes. And it covers many types of printed book – from conventional prose, through books on mathematics, music, books with tables and illustrations, and books set in foreign languages.
The latest edition also deals with issues of copyright, the conventions of presenting text in specialist subjects, guidance on digital coding and publishing in other media such as e-books, and a chapter devoted to on-screen copy-editing.
It has also been updated to take account of modern typesetting and printing technology. This is a good investment for writers who are serious about preparing their work for publication, and an excellent source of reference when you get stuck with the minutiae of bibliographies and typographic presentation. It's also now available in paperback.
© Roy Johnson 2007

  Buy the book at Amazon UK

  Buy the book at Amazon US
---
Judith Butcher, Copy-Editing: The Cambridge Handbook for Editors, Authors and Publishers, 4th edition, Cambridge: Cambridge University Press, 2006, pp.558, ISBN: 0521847133
---
More on creative writing
More on writing skills
More on publishing
---