tutorial, commentary, study resources, and web links
Crapy Cornelia was first published in Harper's Magazine in October 1909. It appears in Volume XII of The Complete Tales of Henry James and is one of a number of stories he wrote which reflect on the time he had spent away from his native America, living in Europe. It also deals with an issue to which he returned over and again – the decision regarding marriage or bachelorhood.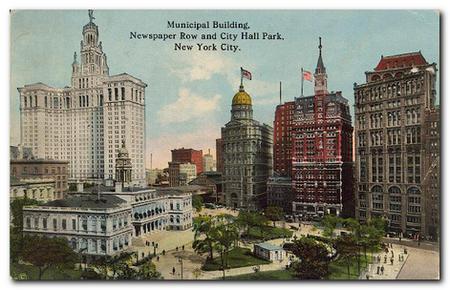 New York in 1909
---
Crapy Cornelia – critical comment
This story combines two themes which occur frequently in James's late tales – the fear of marriage, and the 'lost opportunity' or 'what might have been'. And it puts them into a context of nostalgia highlighted by his own return to the USA in 1904 after an absence of twenty-one years.
Fear of marriage
White-Mason has proposed marriage to women on three separate occasions in the past – but in each case he has done so 'by the happiest instinct, only in impossible conditions'. The term 'happiest' here is very telling. It present's White-Mason's point of view. He is in fact glad that the marriage offers were not taken up.
In choosing 'impossible conditions' he is revealing that subconsciously he does not really want to get married. And the present case with Mrs Worthington proves to be a similar case in point.
He hesitates over proposing to Mrs Worthington, and claims to be irritated to find someone else with her when he calls – but he does not go back again to make his proposition. The remainder of the story is taken up with his conversation with Cornelia Rasch – who asks him twice if her would marry her. But he turns her down, just as he also decides not to ask Mrs Worthington, who we know from Cornelia's account 'adores' him.
So he has plenty of opportunity to be married, but finds self-justifying reasons not to be. Yet he puts great store by the romantic association of objects, and he is keen to possess the photograph of his old flame Mary Cardew. Women are an attraction – so long as they are kept at a distance or objectified.
The lost opportunity
White-Masonis rather like John Marcher in The Beast in the Jungle and George Stransom in The Altar of the Dead – he is an egoist, locked exclusively into his own concerns to an extent that it cuts him off from the potentially remedial contact he could have with the people who surround him.
He thinks of his intention to propose to Mrs Worthington entirely in terms of doing her an immense favour: 'he was "going to like" letting Mrs Worthington accept him'.
In weighing the two opportunities offered to him in the figures of Mrs Worthington and Cornelia Rasch, he thinks of them in terms of opposing responsibilities regarding the management of their respective fortunes
He had, for instance, the sense of knowing the pleasant little old Rasch fortune—pleasant so far as it went; blurred memories and impressions of what it had been and what it hadn't, of how it had grown and how languished and how melted; they came back to him and put on such vividness that he could almost have figured himself testify for them before a bland an encouraging Board. The idea of taking the field in any manner on the subject of Mrs Worthington's resources would have affected him on the other hand as an odious ordeal, some glare of embarrassment or exposure in a circle of hard unhelpful attention, of converging, derisive, unsuggestive eyes.
Everything is related to himself – so it is no surprise that at the conclusion he misses the chance of a beautiful and rich young woman who 'adores' him. He turns down almost scornfully the overtures of an older and more experienced woman who remembers his birthday and shares his sense of the past. And he settles for an old age devoted to nurturing memories of the past locked into material objects such as antique tables and old photographs.
---
Crapy Cornelia – study resources

The Complete Works of Henry James – Kindle edition – Amazon UK

The Complete Works of Henry James – Kindle edition – Amazon US

Complete Stories 1898—1910 – Library of America – Amazon UK

Complete Stories 1898—1910 – Library of America – Amazon US

The Complete Tales (Vol 12) – Paperback edition – Amazon UK

Selected Tales – Penguin Classics edition – Amazon UK

Crapy Cornelia – eBook format at Project Gutenberg

The Cambridge Companion to Henry James – Amazon UK

Henry James at Wikipedia – biographical notes, links

Henry James at Mantex – tutorials, biography, study resources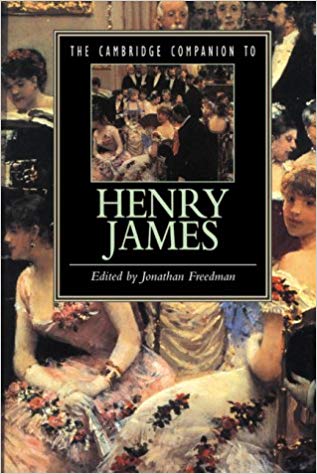 ---
Crapy Cornelia – plot summary
Part I. White-Mason is in Central Park in New York on a spring afternoon. He is reflecting on previous unsuccessful offers of marriage he has made whilst deciding to make a new one to Mrs Worthington.
Part II. When he arrives at her house he finds her as pretty and charming as ever, but he feels annoyed that she has someone else with her – an old woman whom he ignores. But the woman turns out to be a very old friend who he has not recognised. Out of gallantry, he asks if he can visit her.
Part III. He leaves Mrs Worthington's and returns to the Park, wondering why he did not propose as he intended. She is a new, modern young woman, but he fears that she will know nothing of 'old New York' and its values, whereas Cornelia Rasch is of his own generation.
Part IV. He then visits Cornelia and realises how much he values the shared experiences of a background in common and sees the limitations of the 'new' society that knows nothing of the 'old'. Cornelia wonders why he doesn't marry Mrs Worthington.
White-Mason revels in their exploration of the past. They even excavate his old relationship with Mary Cardew. He wonders why Cornelia has come back to New York from her European exile. She explains that it's because she eventually felt old.
Part V. He explains his preference for the old things – which is why he cannot marry Mrs Worthington. Cornelia asks him if he wants to marry her. But he turns down her offer, explaining that he now realises that he like her is old, and that he just wants her to be his friend.
---
Principal characters
| | |
| --- | --- |
| Mr White-Mason | a bachelor of 48 |
| Mrs Worthington | a pretty young woman |
| Miss Cornelia Rasch | an old New York acquaintance of White-Mason |
| Mary Cardew | a previous amour of White-Mason |
---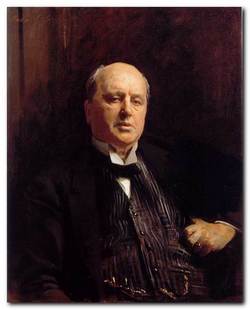 Henry James – portrait by John Singer Sargeant
---
Further reading
Biographical

Theodora Bosanquet, Henry James at Work, University of Michigan Press, 2007.

Leon Edel, Henry James: A Life, HarperCollins, 1985.

Henry James, The Letters of Henry James, Adamant Media Corporation, 2001.

F.O. Matthieson (ed), The Notebooks of Henry James, Oxford University Press, 1988.
Critical commentary

Ian F.A. Bell, Henry James and the Past, London: Palgrave Macmillan, 1993.

Millicent Bell, Meaning in Henry James, Cambridge (MA): Harvard University Press, 1993.

Kirstin Boudreau, Henry James's Narrative Technique, Macmillan, 2010.

Daniel Mark Fogel, A Companion to Henry James Studies, Greenwood Press, 1993.

Jonathan Freedman, The Cambridge Companion to Henry James, Cambridge University Press, 1998.

Barbara Hardy, Henry James: The Later Writing (Writers & Their Work), Northcote House Publishers, 1996.

Richard A. Hocks, Henry James: A study of the short fiction, New York: Twayne Publishers, 1990.

John Pearson (ed), The Prefaces of Henry James, Pennsylvania State University Press, 1993.

Ruth Yeazell (ed), Henry James: A Collection of Critical Essays, Longmans, 1994.
---
Other works by Henry James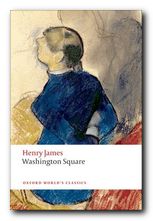 Washington Square (1880) is a superb early short novel, It's the tale of a young girl whose future happiness is being controlled by her strict authoritarian (but rather witty) father. She is rather reserved, but has a handsome young suitor. However, her father disapproves of him, seeing him as an opportunist and a fortune hunter. There is a battle of wills – all conducted within the confines of their elegant New York town house. Who wins out in the end? You will probably be surprised by the outcome. This is a masterpiece of social commentary, offering a sensitive picture of a young woman's life.


Buy the book from Amazon UK


Buy the book from Amazon US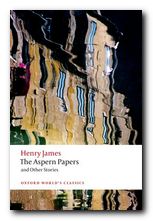 The Aspern Papers (1888) is a psychological drama set in Venice which centres on the tussle for control of a great writer's correspondence. An elderly lady, ex-lover of the writer, seeks a husband for her daughter. But the potential purchaser of the papers is a dedicated bachelor. Money is also at stake – but of course not discussed overtly. There is a refined battle of wills between them. Who will win in the end? As usual, James keeps the reader guessing. The novella is a masterpiece of subtle narration, with an ironic twist in its outcome. This collection of stories also includes three of his accomplished long short stories – The Private Life, The Middle Years, and The Death of the Lion.


Buy the book from Amazon UK


Buy the book from Amazon US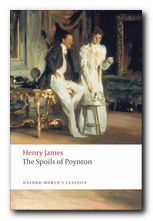 The Spoils of Poynton (1896) is a short novel which centres on the contents of a country house, and the question of who is the most desirable person to inherit it via marriage. The owner Mrs Gereth is being forced to leave her home to make way for her son and his greedy and uncultured fiancee. Mrs Gereth develops a subtle plan to take as many of the house's priceless furnishings with her as possible. But things do not go quite according to plan. There are some very witty social ironies, and a contest of wills which matches nouveau-riche greed against high principles. There's also a spectacular finale in which nobody wins out.


Buy the book from Amazon UK


Buy the book from Amazon US
© Roy Johnson 2012
---
Henry James – web links

Henry James at Mantex
Biographical notes, study guides, tutorials on the Complete Tales, book reviews. bibliographies, and web links.

The Complete Works
Sixty books in one 13.5 MB Kindle eBook download for £1.92 at Amazon.co.uk. The complete novels, stories, travel writing, and prefaces. Also includes his autobiographies, plays, and literary criticism – with illustrations.

The Ladder – a Henry James website
A collection of eTexts of the tales, novels, plays, and prefaces – with links to available free eTexts at Project Gutenberg and elsewhere.

A Hyper-Concordance to the Works
Japanese-based online research tool that locates the use of any word or phrase in context. Find that illusive quotable phrase.

The Henry James Resource Center
A web site with biography, bibliographies, adaptations, archival resources, suggested reading, and recent scholarship.

Online Books Page
A collection of online texts, including novels, stories, travel writing, literary criticism, and letters.

Henry James at Project Gutenberg
A major collection of eTexts, available in a variety of eBook formats.

The Complete Letters
Archive of the complete correspondence (1855-1878) work in progress – published by the University of Nebraska Press.

The Scholar's Guide to Web Sites
An old-fashioned but major jumpstation – a website of websites and resouces.

Henry James – The Complete Tales
Tutorials on the complete collection of over one hundred tales, novellas, and short stories.

Henry James on the Internet Movie Database
Adaptations of James's novels and stories for the cinema and television – in various languages. Full details of directors and actors, production features, film reviews, box office, and even quizzes.
---
More tales by James
More on literature
More on the novella
More on literary studies
More on short stories
---