specialist scientific style guide and reference
This Dictionary for Scientific Writers and Editors is aimed at scholars working in an academic setting and people writing or editing scientific papers – say in book publishing or the mass print media. It gives exact details of how scientific matter is presented in written form – both in terms of the correct spelling for scientific terms and the manner in which scientific data such as equations are rendered on the page. It's part of a set of specialist dictionaries and style guides produced by Oxford University Press.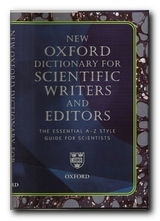 The OUP is the number one source for reference books of this kind, and the series manages to compress huge, unwieldy databases of information into a handy, useable format. This single volume includes over 9,700 entries which reflect accepted usage, and it follows the recommendations of international scientific bodies such as the International Union of Pure and Applied Chemistry and the International Union of Pure and Applied Physics.
It gives clear guidance on such matters as spellings (American English and British English), punctuation, abbreviations, prefixes and suffixes, units and quantities, and symbols. Also included are the correct spelling of chemical and medical terms; short explanations of the meaning of scientific concepts; basic data about famous scientists; explanations of acronyms; and definitions of terms.
There are appendices with lists of chemical and electro-magnetic symbols; the periodic table; scientific symbols; and a list of web-based resources. It provides substantially enlarged coverage from previous editions, with increased coverage of the life sciences, and new entries in physics, astronomy, chemistry, computer science, and mathematics.
This comprehensive and authoritative A-Z guide is an invaluable tool for students, professionals, and publishers working with writing in the fields of physics, chemistry, botany, zoology, biochemistry, genetics, immunology, microbiology, astronomy, mathematics, and computer science.
These style guides are in a curious format – royal sixteenmo – which is smaller than a conventional book, but too bulky to be pocket-sized. But I must say that it looks quite diminutively handsome on my shelves alongside its colleagues the New Oxford Spelling Dictionary, New Hart's Rules, and the Oxford BBC Guide to Pronunciation.
© Roy Johnson 2009

  Buy the book at Amazon UK

  Buy the book at Amazon US
---
New Oxford Dictionary for Scientific Writers and Editors, Oxford: Oxford University Press, 2009, pp.451, ISBN: 0199545154
---
More on language
More on literary studies
More on writing skills
More on creative writing
More on grammar
---