Hogarth Press first edition book jacket designs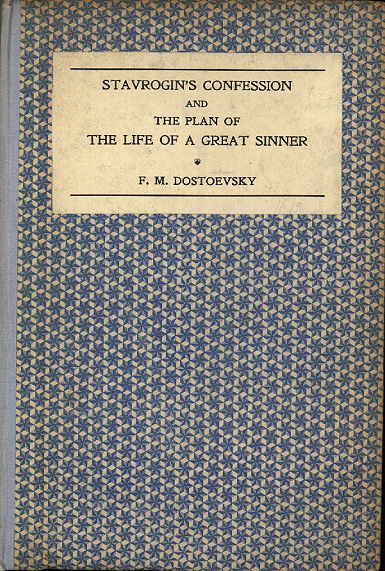 Fyodor Dostoyevski, Stavrogin's Confession, (1922)
This unpublished material from The Possessed was translated by S.S.Koteliansky with Virginia Woolf. The financial success of these Russian translations enabled the press to transform itself from a handpress cottage industry into an established commercial publisher. The origins of the text were explained in their 'Translator's note':
"The Russian government has recently published a small paper-covered book containing Stavrogin's Confession, unpublished chapters of Dostoyevski's novel The Possessed, and Dostoyevski's plan or sketch of a novel which he never actually wrote but which he called The Life of a Great Sinner."
J.H. Willis Jr, Leonard and Virginia Woolf as Publishers: The Hogarth Press 1917-1941
Leonard Woolf provides an account of the book as a physical object with his customary attention to fine detail:
"These books, which I still think to be beautifully printed and bound, were very carefully designed by Virginia and me, and they were unlike the books published by other publishers in those days. They were bound in paper over boards and we took an immense amount of trouble to find gay, striking, and beautiful papers. The Dostoyevski and Bunin were bound in very gay patterned paper which we got from Czechoslovakia … We printed, I think, 1,000 of each and [sold] the Dostoyevski at 6s. [They] sold between 500 and 700 copies in twelve months and made us a small profit, and they went on selling until we reprinted or they went out of print."
Leonard Woolf, An Autobiography
---
Hogarth Press studies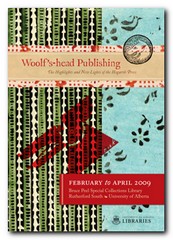 Woolf's-head Publishing is a wonderful collection of cover designs, book jackets, and illustrations – but also a beautiful example of book production in its own right. It was produced as an exhibition catalogue and has quite rightly gone on to enjoy an independent life of its own. This book is a genuine collector's item, and only months after its first publication it started to win awards for its design and production values. Anyone with the slightest interest in book production, graphic design, typography, or Bloomsbury will want to own a copy the minute they clap eyes on it.

Buy the book at Amazon UK


Buy the book at Amazon US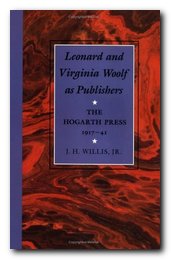 Leonard and Virginia Woolf as Publishers: Hogarth Press, 1917-41 John Willis brings the remarkable story of Leonard and Virginia Woolf's success as publishers to life. He generates interesting thumbnail sketches of all the Hogarth Press authors, which brings both them and the books they wrote into sharp focus. He also follows the development of many of its best-selling titles, and there's a full account of the social and cultural development of the press. This is a scholarly work with extensive footnotes, bibliographies, and suggestions for further reading – but most of all it is a very readable study in cultural history.

Buy the book at Amazon UK


Buy the book at Amazon US
© Roy Johnson 2005
---