Hogarth Press first edition book jacket designs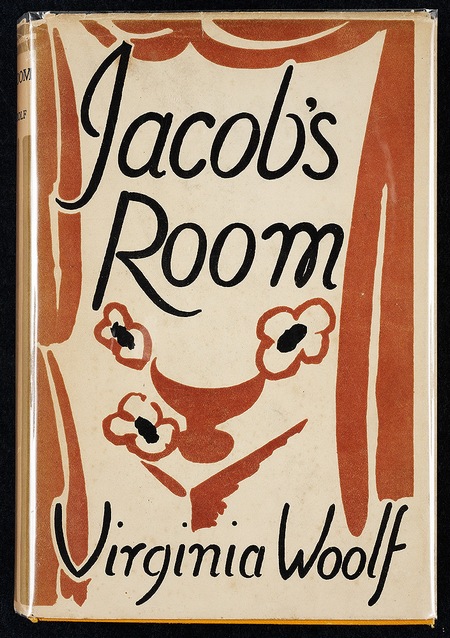 Virginia Woolf, Jacob's Room (1922) Cover design by Vanessa Bell
This was the first of Virginia Woolf's novels to be self-published. She took the opportunity of being free from someone else's editorial control to push the boundaries of her experimental literary technique. It thus marked an important step in modernism and a breakthrough to a greater degree of self-confidence in her work.
"Virginia's Jacob's Room was our first major work, a full-length novel. 1,200 copies of it were printed for us by R. and R. Clark of Edinburgh. [It] was published in October 1922 and began at once to sell fairly briskly, and I had a second impression of 1,000 copies printed by Clark. By the end of 1923 we had sold 1,413 copies; the cost of printing and publishing up to that date had been £276 1s. 6d. and the receipts had been £318 6s. 0d., so that our publisher's profit was £42 4s. 6d. We though that we had done extremely well."
Leonard Woolf, An Autobiography
The publication of Jacob's Room includes a series of firsts in and of itself. It is the first novel published by the Press: it is also the first book to have a dust jacket…The dust jacket for Jacob's Room was a "collaborative effort: Vanessa made the drawing, Virginia chose the terra-cotta colouring, and Leonard Woolf advised alterations to the lettering". The dust jacket, however, was not well received. Leonard recalls that because the design "did not represent a desirable female or even Jacob or his room, and it was what in 1923 many people would have called reproachfully post-impressionist. It was almost universally condemned amongst the booksellers".
Elizabeth Willson Gordon, Woolf's-head Publishing: The Highlights and New Lights of the Hogarth Press
---
Hogarth Press studies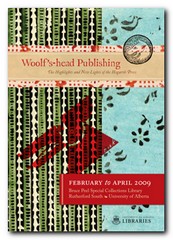 Woolf's-head Publishing is a wonderful collection of cover designs, book jackets, and illustrations – but also a beautiful example of book production in its own right. It was produced as an exhibition catalogue and has quite rightly gone on to enjoy an independent life of its own. This book is a genuine collector's item, and only months after its first publication it started to win awards for its design and production values. Anyone with the slightest interest in book production, graphic design, typography, or Bloomsbury will want to own a copy the minute they clap eyes on it.

Buy the book at Amazon UK


Buy the book at Amazon US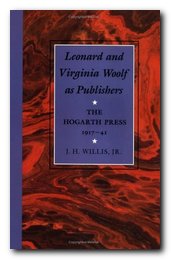 Leonard and Virginia Woolf as Publishers: Hogarth Press, 1917-41 John Willis brings the remarkable story of Leonard and Virginia Woolf's success as publishers to life. He generates interesting thumbnail sketches of all the Hogarth Press authors, which brings both them and the books they wrote into sharp focus. He also follows the development of many of its best-selling titles, and there's a full account of the social and cultural development of the press. This is a scholarly work with extensive footnotes, bibliographies, and suggestions for further reading – but most of all it is a very readable study in cultural history.

Buy the book at Amazon UK


Buy the book at Amazon US
© Roy Johnson 2005
---