tutorial, commentary, study resources, plot, and web links
Georgina's Reasons first appeared in serial form in the New York newspaper The Sun for July—August 1884. This was a serious newspaper which ranked alongside the more famous broadsheets The New York Times and the New York Herald Tribune. The story was then reprinted in book form amongst Stories Revived published in England and America in 1885.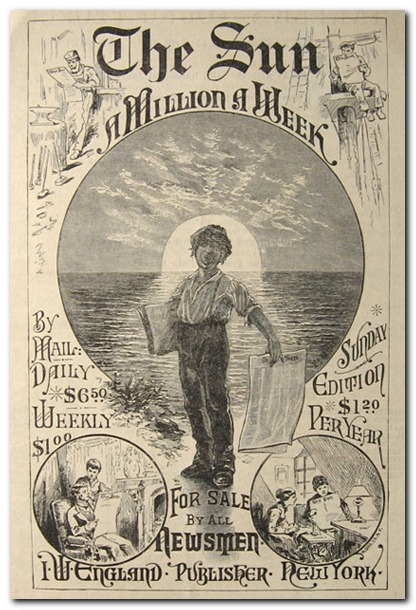 ---
Georgina's Reasons – critical commentary
There only seem to be three points to be made about this tale. The first is obvious and explicit; the second less so; and the third only emerges in the light of reading James's other stories with a similar theme.
The first is that whatever Georgina's reasons are, she keeps them to herself. Obviously she is wilful and defiant towards her parents. She disobeys them and thwarts their ambitions. But she gains nothing from marrying Raymond in secret then going back to live at home. She has not gained any independence.
Obviously she deceives Raymond, mistreats him, and behaves even more outrageously towards her own child. Then – although we are not shown how she does it – she claws her way into higher society via a bigamous marriage to Mr Roy.
In other words she is a completely unscrupulous status seeker with no moral framework other than rampant self-interest and a total disregard for the feelings of others. She is like the precursor of an ambitious bitch from some television soap opera.
In contrast (the second point) Raymond Benyon appears to be the model of high-principled moral integrity. He agrees to keep their marriage secret, despite having no earthly motive for doing so. And he sticks to this absurd agreement even when attractive alternatives are on offer.
But is he so honourable? He realises that because he is technically married, he ought not to become entangled with unmarried women, but he does so nevertheless. So far, so understandable. But then he cannot bring himself to explain to Kate Theory why he is so reluctant to develop their relationship – and at the end of the tale he makes quite a cruel suggestion that they 'wait' before marrying – at the same time as applying for another commission at sea.
His excuse to himself is that the 'wait' is only until the death of his wife, to whom he is still legally married. But she is only thirty years old at the time. He is prevaricating wimpishly at the expense of Kate's feelings for him.
If these two observations are put together, they form the basis for the third point of argument – that this story is yet another of the many James wrote which offer a cautionary tale against emotional entanglements with women, and the perilous consequences of being married. Read alongside other tales such as Benvolio, , and The Path of Duty there is every reason to believe that James was giving expression (whether consciously or unconsciously) to the dilemma he faced in his own relations with women, marriage, and sexuality. He would not resolve this dilemma until quite late in his own life.
---
Geotgina's Reasons – study resources

The Complete Works of Henry James – Kindle edition – Amazon UK

The Complete Works of Henry James – Kindle edition – Amazon US

Complete Stories 1884—1891 – Library of America – Amazon UK

Complete Stories 1884—1891 – Library of America – Amazon US

Georgina's Reasons – paperback edition – Amazon UK

Georgina's Reasons – paperback edition [$5.84] Amazon US

Georgina's Reasons – Kindle edition

Georgina's Reasons – eBook formats at Gutenberg

The Cambridge Companion to Henry James – Amazon UK

Henry James at Wikipedia – biographical notes, links

Henry James at Mantex – tutorials, biography, study resources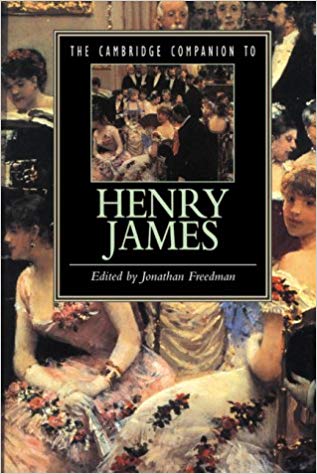 ---
Georgina's Reasons – plot summary
Part I.   Georgina Gressie causes distress to her successful family when she announces that she wishes to marry Raymond Benyon, a humble lieutenant in the navy. She acts in a contradictory manner with Raymond, and argues that they should see less of each other, but marry as quickly as possible. She argues for marrying in secret and continuing to live with her parents.
Part II.   Georgina announces to Mrs Portico that she has been married for a year, and wishes to go to Europe. She has pretended to her family that her relationship with Raymond Benyon is over. He is away at sea, and she is pregnant. She has sworn Raymond to permanent secrecy regarding their marriage. Mrs Portico suggests that she should tell her parents, but Georgina refuses indignantly.
Part III.   However, Mrs Portico consents to the trip and they go to Genoa, where Georgina gives birth to a son, who she immediately gives away to an Italian surrogate mother. Mrs Portico feels guilty about conspiring in this sort of conduct, and thinks of adopting the child herself. She is increasingly critical of Georgina, and secretly writes to Raymond to tell him about his son, offering to bring him up herself. However, shortly afterwards she dies of malarial fever. Georgina returns to New York.
Part IV.   Ten years later Kate Theory is looking after her consumptive sister Mildred in Naples. They have been visited by Captain Benyon, who Kate thinks has a 'lost love' in his past. His commodore has left him in charge of the Louisiana whilst away. They have met via the US consul, and Raymond is attracted to them, despite his self-imposed rule of staying away from unmarried women.
Mildred reveals privately to Raymond their fear that they will not like their brother's wife Agnes, who is due to visit. Raymond also worries that Mildred seems to be pushing her sister Kate at him, because he is falling for her despite himself. He leaves abruptly, and when Kate returns she is devastated.
Part V.   Ten days later Raymond has admitted to himself that he is in love with Kate, but feels he must renounce their relationship because technically he is still married. Agnes Theory has turned out to be an empty-headed bore. Raymond half declares himself to Kate, and then is shown a portrait of Georgina, who has married a rich New York businessman. He thinks back in great anger about the manner in which Georgina has deceived him, particularly with regard to their child, for whom he has searched, fruitlessly. He now feels that Georgina has put herself within his power.
Part VI.   Back in New York, Raymond visits Georgina and finds her beautiful and completely unrepentant. He wants a divorce, but she refuses. Instead she introduces him to her husband Mr Roy. Raymond could reveal her bigamous status, but doesn't. She sends him off with the suggestion that he should marry again without getting a divorce. He feels constrained by the promise he originally made to her, and cannot find a way out of this dilemma. Finally, he decides to renounce Kate. He tells her they must wait to get married and asks the navy for a new commission.
---
Principal characters
| | |
| --- | --- |
| Catherine Conduit | the narrator, third cousin to Eunice |
| Eunice | a rich orphan of twenty-one |
| Mr Caliph | Eunice's trustee, an old family friend |
| Adrian Frank | Mr Caliph's step-brother |
| Mrs Lizzie Ermine | a society busybody and bore |
---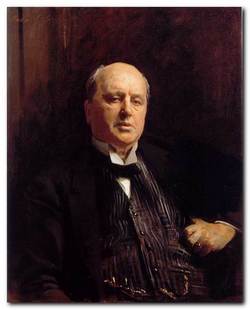 Henry James – portrait by John Singer Sargeant
---
Further reading
Biographical

Theodora Bosanquet, Henry James at Work, University of Michigan Press, 2007.

F.W. Dupee, Henry James: Autobiography, Princeton University Press, 1983.

Leon Edel, Henry James: A Life, HarperCollins, 1985.

Philip Horne (ed), Henry James: A Life in Letters, Viking/Allen Lane, 1999.

Henry James, The Letters of Henry James, Adamant Media Corporation, 2001.

Fred Kaplan, Henry James: The Imagination of Genius, Johns Hopkins University Press, 1999

F.O. Matthieson (ed), The Notebooks of Henry James, Oxford University Press, 1988.
Critical commentary

Elizabeth Allen, A Woman's Place in the Novels of Henry James London: Macmillan Press, 1983.

Ian F.A. Bell, Henry James and the Past, London: Palgrave Macmillan, 1993.

Millicent Bell, Meaning in Henry James, Cambridge (MA): Harvard University Press, 1993.

Harold Bloom (ed), Modern Critical Views: Henry James, Chelsea House Publishers, 1991.

Kirstin Boudreau, Henry James's Narrative Technique, Macmillan, 2010.

J. Donald Crowley and Richard A. Hocks (eds), The Wings of the Dove, New York: W.W. Norton and Company, 1978.

Victoria Coulson, Henry James, Women and Realism, Cambridge University Press, 2009.

Daniel Mark Fogel, A Companion to Henry James Studies, Greenwood Press, 1993.

Virginia C. Fowler, Henry James's American Girl: The Embroidery on the Canvas, Madison (Wis): University of Wisconsin Press, 1984.

Jonathan Freedman, The Cambridge Companion to Henry James, Cambridge University Press, 1998.

Judith Fryer, The Faces of Eve: Women in the Nineteenth Century American Novel, Oxford: Oxford University Press, 1976

Roger Gard (ed), Henry James: The Critical Heritage, London: Routledge, 1968.

Tessa Hadley, Henry James and the Imagination of Pleasure, Cambridge University Press, 2009.

Barbara Hardy, Henry James: The Later Writing (Writers & Their Work), Northcote House Publishers, 1996.

Richard A. Hocks, Henry James: A study of the short fiction, New York: Twayne Publishers, 1990.

Donatella Izzo, Portraying the Lady: Technologies of Gender in the Short Stories of Henry James, University of Nebraska Press, 2002.

Colin Meissner, Henry James and the Language of Experience, Cambridge University Press, 2009

John Pearson (ed), The Prefaces of Henry James, Pennsylvania State University Press, 1993.

Richard Poirer, The Comic Sense of Henry James, Oxford: Oxford University Press, 1967.

Hugh Stevens, Henry James and Sexuality, Cambridge University Press, 1998.

Merle A. Williams, Henry James and the Philosophical Novel, Cambridge University Press, 1993.

Judith Woolf, Henry James: The Major Novels, Cambridge University Press, 1991.

Ruth Yeazell (ed), Henry James: A Collection of Critical Essays, Longmans, 1994.
---
Other works by Henry James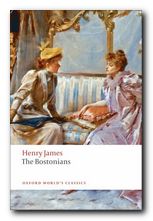 The Bostonians (1886) is a novel about the early feminist movement. The heroine Verena Tarrant is an 'inspirational speaker' who is taken under the wing of Olive Chancellor, a man-hating suffragette and radical feminist. Trying to pull her in the opposite direction is Basil Ransom, a vigorous young man to whom Verena becomes more and more attracted. The dramatic contest to possess her is played out with some witty and often rather sardonic touches, and as usual James keeps the reader guessing about the outcome until the very last page.

Buy the book at Amazon UK


Buy the book at Amazon US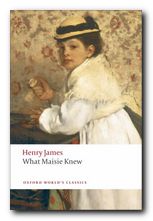 What Masie Knew (1897) A young girl is caught between parents who are in the middle of personal conflict, adultery, and divorce. Can she survive without becoming corrupted? It's touch and go – and not made easier for the reader by the attentions of an older man who decides to 'look after' her. This comes from the beginning of James's 'Late Phase', so be prepared for longer and longer sentences. In fact it's said that whilst composing this novel, James switched from writing longhand to using dictation – and it shows if you look carefully enough – part way through the book.


Buy the book at Amazon UK


Buy the book at Amazon US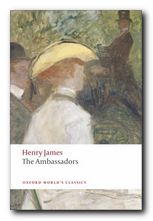 The Ambassadors (1903) Lambert Strether is sent from America to Paris to recall Chadwick Newsome, a young man who is reported to be compromising himself by an entanglement with a wicked woman. However, Strether's mission fails when he is seduced by the social pleasures of the European capital, and he takes Newsome's side. So a second ambassador is dispatched in the form of the more determined Sarah Pocock. She delivers an ultimatum which is resisted by the two young men, but then an accident reveals unpleasant truths to Strether, who is faced by a test of loyalty between old Europe and the new USA. This edition presents the latest scholarship on James and includes an introduction, notes, selected criticism, a text summary and a chronology of James's life and times.


Buy the book at Amazon UK


Buy the book at Amazon US
© Roy Johnson 2013
---
Henry James – web links

Henry James at Mantex
Biographical notes, study guides, tutorials on the Complete Tales, book reviews. bibliographies, and web links.

The Complete Works
Sixty books in one 13.5 MB Kindle eBook download for £1.92 at Amazon.co.uk. The complete novels, stories, travel writing, and prefaces. Also includes his autobiographies, plays, and literary criticism – with illustrations.

The Ladder – a Henry James website
A collection of eTexts of the tales, novels, plays, and prefaces – with links to available free eTexts at Project Gutenberg and elsewhere.

A Hyper-Concordance to the Works
Japanese-based online research tool that locates the use of any word or phrase in context. Find that illusive quotable phrase.

The Henry James Resource Center
A web site with biography, bibliographies, adaptations, archival resources, suggested reading, and recent scholarship.

Online Books Page
A collection of online texts, including novels, stories, travel writing, literary criticism, and letters.

Henry James at Project Gutenberg
A major collection of eTexts, available in a variety of eBook formats.

The Complete Letters
Archive of the complete correspondence (1855-1878) work in progress – published by the University of Nebraska Press.

The Scholar's Guide to Web Sites
An old-fashioned but major jumpstation – a website of websites and resouces.

Henry James – The Complete Tales
Tutorials on the complete collection of over one hundred tales, novellas, and short stories.

Henry James on the Internet Movie Database
Adaptations of James's novels and stories for the cinema and television – in various languages. Full details of directors and actors, production features, film reviews, box office, and even quizzes.
---
More tales by James
More on literature
More on the novella
More on literary studies
More on short stories
---