guidance notes for beginners
Knowing how to listen to jazz isn't easy. It's an improvised music, but it is based upon well-defined and disciplined musical structures. Does that seem like a contradiction? Here's how it works.
When jazz musicians play together, they often choose well-known songs. They don't need printed musical scores, because they have all learned these songs by ear and by heart as part of their training.
The songs themselves will be based on well-rehearsed musical structures. For instance, George Gershwin's melody I've got Rhythm has the typical architecture of the popular song – lasting for thirty-two bars. The parts are arranged are arranged as follows:
Eight bars of melody   (A)
The same eight bars – repeated   (A)
Eight bars in a different key   (B)
The first eight bars played again   (A)
This structure is known as AABA. (and the B part is called 'the bridge' or 'the middle eight'). Thousands of songs are written in this pattern, and over time some of them have become popular with both jazz musicians and the listening public. These songs are known as 'standards', and jazz musicians learn them as a natural part of their own training and development.
Cole Porter's   Love for Sale
Billy Strayhorn's   Lush Life
Hogy Carmichael's   Skylark
The same is true of another musical form – the twelve bar blues. This is a structure underpinning folk tunes, laments, and much of what lies at the heart of jazz performance in many styles. The architecture is similar:
Four bars of melody   (A)
Four bars repeated   (A)
Four bars with variation   (BA)
This is grossly over-simplified, but the main point is that the jazz musicians know these patterns before they begin to play. All they need to decide between themselves is what key to play in.
They are therefore improvising, but their performance is based upon a harmonic structure known to all the musicians concerned, and they have the very advanced listening skills and musical 'memories' to know where they are up to in the sequence at any given time.

When they have decided what tune to play, the performance will normally have a structure or sequence of events which is determined partly by the instrumentation or make up of the group and partly by the unspoken inclinations of the musicians themselves – without requiring prior arrangement.
The ensemble will play the chosen tune
Then (often) the tune will be repeated
A 'solo' instrument will improvise on the tune
A second instrument might do the same
The ensemble will return to play the tune
Instrumentation
The piano has a complex, multi-functional role in a jazz ensemble. Its main purpose is to sustain the harmonic structure of the tune throughout the performance. It plays the melody, may also feature as a solo instrument, and it provides support for other instruments during their solos.
The double-bass provides a combination of harmonic and percussive support throughout any performance. It usually sustains a four beats to the bar rhythm (known as the 'walking bass'), playing notes from the chords to the tune, and it only occasionally features as a solo instrument.
The drums provide the dominant rhythmic pulse, which is often created by a four-four pattern tapped out on cymbals, accompanied by a variety of percussive effects on drums punctuating the performance.
The saxophone is a typical 'solo' instrument. It plays the melody, and then is very popular with instrumentalists as a solo instrument – mainly because it is suitable for producing an individual and recognisable sound or tone. This is partly because it has an intimate connection with the propulsive force generating the music – air from the player's lungs. The same is true of the trumpet.
The improvised solo
Basically, the soloist makes up variations on the chosen tune, which is based upon its harmonic chord sequence. Parts of the original melody may be detectable during the improvisation, but experienced jazz musicians are capable of inventing entirely new melodies which have very little in common with the original.
Indeed, some soloists are so skilful they are able to quote long passages from other familiar tunes and make them fit into the harmonic sequence of the tune being played. This is possible because they are intimately acquainted with a huge repertoire of 'standards' – and they do this both as a demonstration of their skills and as a homage to the tradition of this music.
The soloist is supported throughout the performance by accompanying musicians, who play a supportive role in providing the harmonic framework as a 'reminder', possibly whilst waiting their own turn to take a solo.
---
---
Art Blakey and the Jazz Messengers
This video clip of a live 1958 concert in Brussels shows a classic performance of the kind described above. The ensemble plays the melody (Moanin' by Bobby Timmons) then there are three soloists – Lee Morgan on trumpet, Benny Golson on tenor saxophone, Bobby Timmons on piano, then Jamie Merritt on bass, .
I chose this example because it is played in an unusually subdued mood and slow pace. This should make it easier to appreciate the structure and the separate parts of the performance. [It should be said that most performances by this group are performed at much faster tempos and louder volume. Art Blakey is famous for his 'High-Energy' groups and playing style.]
Marks of quality
All great jazz musicians tend to develop an individual, recognisable style on their instrument. They create a 'sound' of their own, which to an experienced listener is instantly recognisable after only a few notes. The same is true for both instrumentalists and singers.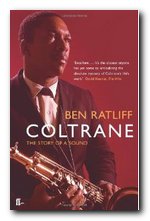 Musicians with good taste always pay respect to the tune they are playing. If saxophonists such as Dexter Gordon or John Coltrane play a ballad (You Don't Know What Love Is, for instance) their rendition and interpretation will be sympathetic to the original meaning of the song. They will follow the nuances of the melody and even the words of the lyrics with a performance empathetic to the original. Great singers such as Jimmy Scott, Johnnie Hartman and Billie Holiday always follow this rule. Second and third rate singers such as Ella Fitzgerald and Cleo Laine do not.
Having said that, great improvisers sometimes completely re-interpret a work – either by playing the melody in a new manner, by changing its underlying chord sequence, or by inventing an entirely new melody. Good examples of this process at work include Miles Davis and Gil Evan's version of George Gershwin's Porgy and Bess and John Coltrane's re-working of Rogers and Hammerstein's rather sickly show tune My Favourite Things.
Looking ahead
Needless to say, there are exceptions to all the points made above. There are groups that play without a piano; musicians who write their own original tunes; and even performances (by big bands in particular) where everybody reads the music from written scores. But if you understand the basic principles of jazz performance as outlined here you will know the conventions from which these are deviations.
It certainly helps if you know the melody before hearing a performance, because this allows you to keep the tune in mind whilst listening to the improvisations upon it. This is something which becomes easier as you develop your listening experience. And that's what an appreciation of jazz music is all about.
Performing at Birdland one night in 1951, Charlie Parker was in the middle of improvising on a be-bop tune when he spotted Igor Stravinsky in the audience. Without losing any connection with the tune or its chord sequence, he began to pepper his solo with brilliant interpolations from the composer's Firebird Suite, causing Stravinsky to bang his cocktail glass on the table with delight and amusement.
That captures the essence of jazz at its best.
© Roy Johnson 2011
---
More on music
More on media
More on lifestyle
---