practical guide to professional screen writing
This is the second edition of a very successful book which covers all aspects of scriptwriting (or script writing) and making a living as a professional author. It's the work of a leading literary agent who brings insider tips and guidance on what is a tough market in which to make a living. Julian Friedmann takes a practical, no-nonsense approach which encourages would-be authors to become more aware of what he calls the 'politics' of writing. This means paying more attention to the market place; being prepared to fit in to the system of television or screen, and being prepared to deliver to audiences what they want.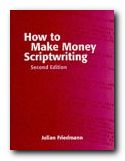 He paints a picture of a very difficult business which makes big demands of the would-be screenwriter. The only way to succeed is be prepared to collaborate; drop your ego; know that viewer-ratings is All; and 'murder your darlings' when required.
There are excellent chapters on how to structure and produce a 'pitch', a 'treatment' and a 'step outline' for a proposed script. But even if you're good at doing all that, there's still more to learn: how script editing and script reports work; what ratings, audience share, and programme research mean; how to deal with an agent – or without one; how to handle meetings and negotiate with producers; how to understand a basic agreement and protect your own interests as a writer; and how to survive financially whilst you are waiting for that call from Hollywood.
The emphasis is almost entirely on cinema and television. There's no mention of the theatre, and radio only gets a very brief mention, although there is one chapter on writing for interactive multi-media.
There's also no advice on the details of writing techniques: he assumes you know how to write, or can find out elsewhere. His guidance is on how to make a success of scriptwriting from a business point of view. There are full explanations of all the people you need to contact; how to make your work look professional; and how to take rejection without losing heart.
He ends with a very useful series of appendices with includes examples of negotiations with producers; sample memos commissioning a deal; legal contracts; Writers' Guild minimum Terms of Payment; plus all the contact details for writer's groups, training courses, and professional associations.
Anyone entering this ferociously competitive field of creative writing needs all the help they can get. Friedmann explains why it is such a tough business, and in doing so he reveals the strategies you need to succeed. You will find advice on writing skills elsewhere. This is insider guidance on how the business works.
© Roy Johnson 2003

  Buy the book at Amazon UK

  Buy the book at Amazon US
---
Julian Friedmann, How to Make Money Scriptwriting, Bristol: Intellect, 2nd edn, 2003, pp.219, ISBN: 184150002X
---
More on publishing
More on journalism
More on creative writing
More on writing skills
---