practical guide to e-Commerce on a budget
We are living in the middle of a gold rush. It's the worldwide exploitation of the Internet as a medium of commerce. Companies like Amazon.com and CD-Now have jumped from spare-room start-ups to multi-million dollar enterprises whilst other people have been deciding whether to upgrade their software. It's claimed that many people are making a quick fortune. But if you lack pots of start-up investment capital, how can it be done? Internet Marketing and Promotions shows how.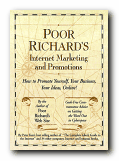 Peter Kent and Tara Calishain have produced a guide which is a follow-up to the best-selling Poor Richard's Web Site. These are do-it-yourself on-a-budget tips from people who really have done it themselves. They kick off with a few remarks on Internet trading, pointing to the opportunities, the pitfalls, and the need for realism and hard work. Only after this do they go through the technical requirements for creating a good Web presence.
The 'Poor Richard' approach means that a lot of the programs they recommend are shareware, cheap, or even free. It's all very practical, and aimed at the average reader with answers to basic questions such as 'Where do I get this? How much does it cost? How does it work?'
After an introduction on information management, they go through the complex issues of preparing Meta-tags and submissions to search engines in great detail, then cover all the other available avenues for promotion. These include newsgroups and mailing lists, creating your own newsletter, banner ads, and email advertising. When something doesn't work or isn't worth the trouble or expense, they'll tell you quite frankly. This sort of approach will appeal to the small-scale entrepreneur, who normally has to put up with business advice which involves raising $50M in stock market floatations.
There's a very useful section on tracking your results which cuts through a lot of the mystification and encourages us to be sceptical about hyperbolic claims. Did you know that a normal page with one picture counts as two hits – one for the text, the other for the graphic? Those sites with twenty buttons on the homepage claiming 10,000 hits a week are actually getting 500 real visitors.
Unlike many of the other books on Net commerce available, theirs is based on the results of practical experience. They tell you what's worked for them; they're prepared to reveal their mistakes; and at every stage they will say 'This worked for me, but here are some alternatives – and here's a free option. It's written in a breezy, straightforward style without ever slipping into marketing-speak or nerdish jargon. I particularly liked some of the sparky colloquialisms which seem to echo the tone of Tara Calishain's weekly newsletter: "Don't get blindsided by a no-brainer"
They deal with the very latest feature of Net commerce – setting up affiliate programs, in which you are paid a 5-15% commission on the purchases of customers you send to somebody else's site. There are also a lot of free services which will track and update references to your website on Internet traffic, plus email promotion services – all listed, complete with up-to-date URLs. This is amazingly valuable information. They also spell out how to use email and mailmerge programs for effective press releases, and they end with a variety of strategies for [shock-horror] selling:
What are most new Internet marketeers reading? They're reading mostly geek stuff…setting up Web sites, and creating web pages
What they're not reading is how to do business on the Internet, and Kent and Calishain offer a bracing antidote to this nerdishness. Their argument is that if you want to move Widgets, you have to take a step beyond the self-indulgence of good design which has no effect.
A neighbour of mine has a web site which is so elementary it might have been designed by a teenager using a Dummies primer over the weekend. But he's shifting £500,000 of a single product each year from an attic room in his house. He won't win any prizes for design, but he's grasped the principles of Net marketing. These authors would be proud of him – and as a matter of fact he's mentioned in the book. You see – it can be done!
© Roy Johnson 2000

  Buy the book at Amazon UK

  Buy the book at Amazon US
---
Peter Kent and Tara Calishain, Poor Richard's Internet Marketing and promotions: How to Promote Yourself, Your Business, Your Ideas Online, Colorado: Top Floor, 1999, pp.404, ISBN: 0966103270
---
More on eCommerce
More on media
More on publishing
More on technology
---