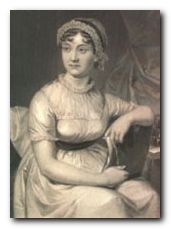 Jane Austen is renowned for her wit, her lightness of touch, and the elegance of her prose style. There isn't a great deal of drama in her novels: people fall in and out of love; some of her heroines test our patience; and in the end there is usually a marriage. But the manner in which she orchestrates these events, and her shrewd insights into human frailties have made her an enduringly popular writer. She was writing (almost in secret) at a time when the whole of Europe was in thrall to the novelist Walter Scott. If you read her work now, it's as fresh as if it had been written last week. Read Walter Scott now, and you're likely to be asleep within ten pages.
Pride and Prejudice (1813) has the famous opening line "It is a fact universally recognised that a man with a fortune must be in search a wife." It's a story of the empty-headed and garrulous Mrs Bennet, who has but one aim in life – to find a good match for each of her daughters. Her husband is a mild-mannered and indolent man, much given to making witty cynicisms about his wife's weaknesses, and he refuses to take this vulgar prospect seriously. The pride of the title belongs to its hero Mr Darcy, and the prejudice to heroine Elizabeth Bennet, who has lessons to learn from life. This was Jane Austen's first major success as a novelist – though not the first of her books to be written. It's a perfect place to start – witty, sophisticated writing, and some well-observed character sketches. It seems as fresh today as ever, and it's no wonder it has been the subject of so many television and film adaptations.


Buy the book at Amazon UK


Buy the book at Amazon US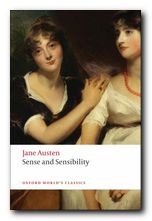 Sense and Sensibility (1811) casts two sisters Elinor and Marianne Dashwood as representatives of 'sense' and 'sensibility' respectively. Elinor bears her social disappointments with dignity and restraint – and thereby gets her man. Marianne on the other hand is excitable and impetuous, following her lover to London – where she quickly becomes disillusioned with him. Recovering and gaining more 'sense', she then sees the good qualities in her old friend Colonel Brandon, who has been waiting in the wings and is now conveniently on hand to propose marriage. Almost all the novels feature a heroine growing in moral intelligence through doubts and adversities – and this is no exception.


Buy the book at Amazon UK


Buy the book at Amazon US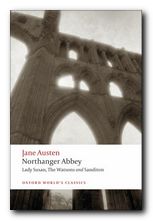 Northanger Abbey (1818) starts in the drawing rooms of Bath. The heroine is imaginative Catherine Morland who falls in love with Henry Tilney, a young clergyman. When he invites her to meet his family at the Abbey however, she sees nothing but Gothic melodrama at every turn – since they were very fashionable at the time. Her visions of medieval horror prove groundless of course. This is Jane Austen's satirical critique of Romantic cliché and excess. But Catherine eventually learns to see the world in a realistic light – and gets her man in the end. This volume also contains the early short novels Lady Susan and The Watsons, as well as the unfinished Sanditon.


Buy the book at Amazon UK


Buy the book at Amazon US
The Oxford World Classics are the best editions of Jane Austen's work. They are largely based on the most accurate versions of the texts; and they feature introductory essays, a biography, explanatory notes, textual variants, a bibliography of further reading, and in some cases missing or deleted chapters. They are also terrifically good value.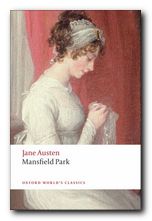 Mansfield Park (1814) is more serious after the comedy of the earlier novels. Heroine Fanny Price is adopted into the family of her rich relatives. She is long-suffering and passive to a point which makes her almost unappealing – but her refusal to tolerate any drop in moral standards eventually teaches lessons to all concerned. (All that is except standout character Mrs Norris who is a sponging and interfering Aunt you will never forget.) The hero Edmund is dazzled by sexually attractive Mary Crawford – but in the nick of time sees the error of his ways and marries Fanny instead. This is a slow moving narrative, but it is full of moral subtleties.


Buy the book at Amazon UK


Buy the book at Amazon US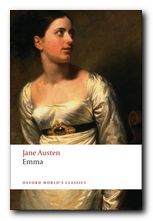 Emma (1816) Charming and wilful Emma Woodhouse amuses herself by dabbling in other people's affairs, planning their lives the way she sees fit. Most of her match-making plots go badly awry, and moral confusion reigns until she abandons her self-delusion and wakes up to the fact that stern but honourable Mr Knightly is the right man for her after all. As usual, money and social class underpin everything. Some wonderful comic scenes, and a rakish character Frank Churchill who finally reveals his flaws by making the journey to London just to get his hair cut.

Buy the book at Amazon UK


Buy the book at Amazon US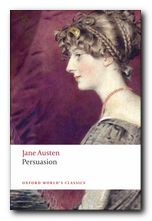 Persuasion (1818) is the most mature of her novels, if one of the least exciting. Heroine Anne Elliott has been engaged to Captain Wentworth, but has broken off the engagement in deference to family and friends. Meeting him again eight years later, she goes against conventional wisdom and accepts his second proposal of marriage. Anne is a sensitive and thoughtful character, quite unlike some of the earlier heroines. Jane Austen wrote of her "She is almost too good for me". There is a shift of location to Lyme Regis for this novel, which reveals for the first time a heroine acting from a deep sense of personal conviction, against the grain of conventional wisdom.


Buy the book at Amazon UK


Buy the book at Amazon US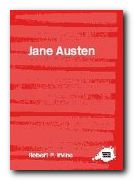 The Complete Critical Guide to Jane Austen is a good introduction to Austen criticism and commentary. It includes a potted biography, an outline of the novels, and pointers towards the main critical writings – from Walter Scott to critics of the present day. It also includes a thorough bibliography which covers biography, criticism in books and articles, plus pointers towards specialist journals. It also has an interesting chapter discussing Austen on the screen. These guides are very popular.


Buy the book at Amazon UK


Buy the book at Amazon US
© Roy Johnson 2009
---
Jane Austen greatest works
Jane Austen biographical studies
Jane Austen life and works
Jane Austen literary criticism
---