Illustrated and comprehensive introduction to HTML
Jennifer Niederst is a specialist trainer in web design. Her last book, Web Design in a Nutshell, is a best-selling reference guide to the subject. Learning Web Design is her latest – a manual that covers all the basis of HTML design – from a detailed explanation of coding to the principles of good navigation and information design. So what makes this introductory guide any different to the dozens of others that are available?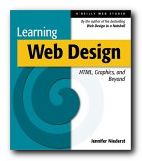 Well, it's a very handsome production, with every point well illustrated by screenshots and the appropriate code. She also shows how to achieve each major effect using three popular editors – Dreamweaver, GoLive, and FrontPage. But the main strength here is the attractive balance she has struck between tuition and visual presentation.
Her pages are surrounded by indented notes, sidebars, and pull-out boxes offering tips and special workarounds. This form of presentation makes learning lighter and easier. And she's especially strong on explaining graphics.
I particularly like her approach of explaining details which don't get mentioned in more official guides. For instance, if you wish to colour a link, the font colour tag must be placed inside the link, otherwise it won't work.
She also reveals lots of tips, tricks, and workarounds for overcoming some of the frustrating limitations of HTML. I was very glad to pick up a neat trick for creating pop-up windows using a small JavaScript – which answered a current problem on quiz answers I have been designing.
The book ends with a very brief glimpse at advanced techniques using style sheets, and streaming audio and video files. This is one which will appeal to beginners and trainers. Work your way through the tutorials, and you could have a reasonable site up on the Web within a few days.
© Roy Johnson 2002
---
Jennifer Niederst, Learning Web Design: A Beginner's Guide to HTML, Graphics, and Beyond, Sebastopol (CA): O'Reilly, 2001, pp.388 ISBN: 0596000367
---
More on web design
More on digital media
More on technology
---