a critical examination of Nabokov's collected stories
Perhaps in keeping with the mood of the decade's end, 'Lik' (November 1938) is one of the most sombre and unremittingly serious of Nabokov's stories. In it he sticks to a plain third person narrative mode and does not bring into play any of his customary literary amusements. The setting might be the French Riviera, but the subject matter is pain, exile, and death.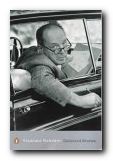 Lavrentiy Ivanovich Kruzhevnitsyn, whose initials give the story its title and him his nickname, is a frail and hypersensitive émigré who is scratching a living as an actor in a theatrical company. They are currently touring 'L'Abime', a French melodrama in which he plays the (badly-written) part of a stage Russian. He feels himself to be one of life's permanent outsiders, and he also has a weak heart. Whilst resting between performances he meets a distant relative Koldunov who bullied him as a schoolboy but has now sunk into a pitiful state of dejection and poverty. Koldunov tries to borrow money from him and oppresses him with boorish behaviour.
Just before Lik's last performance they meet again. Koldunov takes him back to his squalid lodgings, tries to get him drunk, delivers a tirade which catalogues the injustices he has suffered, and demands to know why fate treats the two of them so differently. Lik escapes from this moral harassment, feeling that he is about to have a heart attack. But then he has to turn back because he has left behind a recently purchased pair of shoes. When he arrives at the room however Koldunov has shot himself – after putting on the shoes.
If there is any authorial sleight of hand here, it occurs in two incidents which are both related to the story's themes. The first is in the opening of the story where Nabokov offers a sort of false beginning by describing the plot of 'L'Abime' in a way which leads the reader to expect that this will be the subject of the story: 'the young man of the play threatens to be somewhat colourless, and it is in a vain attempt to touch him up a little that the author has made him a Russian' (TD,p.72).
The play is a melodrama, and it is gently mocked for dealing in the stereotypes of what the public supposes to be 'the Russian character'. But 'Lik' as a story is itself melodramatic on the surface, so the play parallels the story, whose own 'young man' is Russian – though the play is a paler parodic version of the story. For 'Lik' is Russian in a manner which goes straight back to Dostoyevski, who is even acknowledged in the text.
The other instance of Nabokov misleading the reader occurs at the end of the story when Lik has escaped from the importunate demands of Koldunov. He is agitated, ill, and he senses an attack coming on: 'everything began to spin; his heart was reflected as a terrifying globe on the dark inner side of his eyelids. It continued to swell agonisingly' (p.97). The reader is given every reason to believe that Lik will die. But he does not: Koldunov dies instead. The justification for the sleight of hand in this instance is that the two men are in fact alternative versions of each other – doubles in a very subtle manner.
Lik is a twofold outsider – an émigré, and a man alone. He is described in a manner which echoes many characters from Russian nineteenth century fiction: 'he had…the feeling of being superfluous, of having usurped somebody else's place' (p.75). He lives on his own, has no friends, and feels a painful sense of separation from his fellow men – even his fellow actors – which borders on paranoia.
This cocktails of problems, in addition to his illness, makes him hypersensitive. He realises that if he had not lost both parents and been forced into the life of an émigré he could have been more stable and enjoyed a normal life. As it is, he feels death calling him, and that even this might at least give his life some meaning: 'If death did not present him with an exit into true reality, he would simply never come to know life' (p.80).
He also has an artistic sensibility which he applies to this problem, reflecting on the possibility of moving his existence from the real world into that of art:
'Lik might hope, one vague and lonely night, in the midst of the usual performance, to tread…on a quicksandy spot: something would give, and he would sink forever into a newborn element…developing the play's threadbare themes in a way altogether new' (p.77)
Using Lik's hypersensitivity as a justification, Nabokov is here toying with the metaphysical notion of an 'existence' which can slip between one level of reality and another.
Koldunov at first sight appears to be quite unlike Lik. He is vulgar, clumsy, 'an idler, a drunkard and a boor' (p.89). But he is related by family to Lik, and Nabokov provides a series of subtle hints, parallels and twinnings which invite us to view him as Lik's double – the other development of Lik's possible life chances. Even Lik himself is vaguely aware of this: 'With Koldunov's resurrection, he had to admit the possibility of two parallel lines crossing after all' (p.82)
Koldunov like him is in exile, is poor, and he too feels that his life has become so desperate that it must be near its end. He torments Lik, hinting at suicide: 'the other day I was thinking that all was lost. Do you understand what I am saying' (p.88). His life has gone onto a downward trajectory, but in a way which is not altogether unlike Lik's: 'heavy cycles of ignoble idleness and ignoble toil' (p.92).
This plunge into the lower depths prompts him, in a clearly Dostoyevskian manner, to pose philosophic questions about it, and in doing so he uses a theatrical metaphor which echoes the 'part' Lik is employed to play: 'Why have I been assigned the part of some kind of miserable scoundrel who is spat on by everybody, gypped, bullied, thrown into jail?' (p.94).
We take it from his vulgar behaviour, the quarrels he picks, and his insensitivity, that some of this misfortune is probably of his own making, but there is a sense in which he has every right to pose these questions. Lik himself is poor enough, but Koldunov is even poorer: why does the world treat him this way? Just because he is shabby and vulgar, this is no justification. He goes back as a literary conception to the downtrodden little men of nineteenth century fiction. To 'poor Yevgeni' of Pushkin's 'The Bronze Horseman':
But my poor, poor
Yevgeni! … Alas! his confused mind could not endure
The shocks he had suffered …
… He grew
A stranger to the world"
Or to Gogol's Akaky Akakievich whose overcoat is stolen and who can find no justice in life:
'A human being whom no one ever thought of protecting, who was dear to no one, in whom no one was the least interested, not even the naturalist who cannot resist sticking a pin into a common fly and examining it under the microscope' (Gogol,p.102)
And of course to so many of Dostoyevski's furious individuals who rant against the injustices of life.
The double theme is woven into the story by a number of hints, repetitions, and events which echo each other. Koldunov is mentioned to Lik for instance by
'a loquacious old Russian (who had managed on two occasions already to recount to Lik the story of his life, first in one direction, from the present to the past, and then in the other, against the grain, resulting in two different lives, one successful, the other not)' (p.81)
This of course describes in a way the lives of Lik and Koldunov as presented by the story, and the link between the two of them is firmly underscored at the end by the fact that Koldunov has put on Lik's shoes before shooting himself.
'Lik' stands alongside Spring in Fialta and The Return of Chorb as one of Nabokov's major achievements in the short story form, and it illustrates in both theme and treatment the continuing strength of his links with the Russian literary tradition at a time when he was about to begin his third stage of exile from his native country and about to start writing in a language which was 'foreign' to him.

© Roy Johnson 2005
---

  Vladimir Nabokov: The Collected Stories – Amazon UK


  Vladimir Nabokov: The Collected Stories – Amazon US
---
Vladimir Nabokov web links
Vladimir Nabokov greatest works
Vladimir Nabokov criticism
Vladimir Nabokov life and works
---