paintings, theatre costumes, graphic design, and fabrics
Natalia Goncharova was one of the many talented artists to emerge from the Silver Age of Russia's cultural development in the first two decades of the twentieth century. She went on to become a major figure in the Russian contribution to modernism that centred on Diaghilev and the Ballet Russes in the period 1913-1918, and in fact she continued to produce art works in a number of genres up to her death in 1962. She emerges from the tradition of Russian realism in the late nineteenth century, and her early paintings are almost indistinguishable from the prevailing orthodoxy set by painters such as Surov, Repin, and Surikov. She was from the upper-class nobility: her great-aunt was Natalia Pushkina, wife of the poet Alexander Pushkin.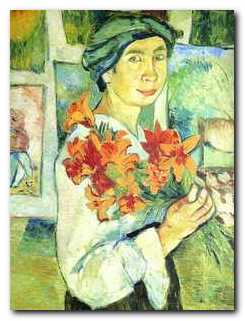 From 1910 onwards she began to paint in the style that became known as Russian primitivism. These are paintings that combine fauvist colouring with faux naive drawing in scenes that seek to capture elemental visions of Russian life, populated by peasants, soldiers, dogs, in village settings. Yet she experimented with cubism, Rayonism, and Russian primitivism at the same time as also producing icon-like religious tableaux.
In 1911 she became associated with the Der Blaue Reiter group. Together with her husband and fellow artist Mikhail Larionov she developed the Rayonist style of painting, which was like a fusion of cubism and futurism, not dissimilar to some paintings of the Italian Boccioni and those of her fellow Russian modernist Malevich.
Strangely enough, all the styles for which she became known in her mature period appear ready-configured for development in her early works: fauvist-style landscapes, medieval Russian dress designs, beautiful still lifes and cubist abstractions. She worked in a variety of media and genres – easel painting, book illustration, stage and costume design, portraiture, interior design (wallpapers and fabrics) and icon painting.
video presentation of work by Natalia Goncharova
In 1915 she was commissioned by Diaghilev to design the sets for the ballet Liturgy, with choreography by Leonide Massine and music by Igor Stravinsky. She was one of those Russian modernists (like Stravinsky, Diaghilev, and Rodchenko) who profited from contact with western European art, and like them she wisely emigrated, going to live in Paris in 1921 whilst it was still possible to do so, thereby escaping the Stalinist purges of the 1930s and beyond. In 1939 she became a French citizen and lived on in Paris until her death.
This lavishly illustrated and definitive study of her life and work is a masterful piece of work by Anthony Parton, specialist in the Russian avant garde. It is the largest collection of her paintings and period photographs in a single printed volume, and contains a full scholarly apparatus of bibliography, list of exhibitions and stage works, and notes to the text. The publishers have done him proud with the quality of the full colour illustrations, and he has returned the compliment with a stunning monograph which I am quite sure will remain the definitive study for some time to come.

Buy the book at Amazon UK

Buy the book at Amazon US
© Roy Johnson 2011
---
Anthony Parton, Goncharova: The Art and Design of Natalia Goncharova, Suffolk: Antique Collectors Club, 2010, pp.519, ISBN: 185149605X
---
More on art
More on media
More on design
---